It doesn't matter if you're moving for the fifth time or a first-time homebuyer. The moving process can be incredibly stressful. There's the time investment, the fear of valuable belongings breaking, and, of course, all those cardboard boxes. You may be asking yourself, "How many boxes do I need to move?" The short answer: it depends. While there is no concrete rule or formula to determine exactly how many moving boxes you'll need, there are a few ways to estimate that number. Whether you're moving out of a house in Denver or a one-bedroom apartment in New York City, we'll help you unpack how many boxes you'll need.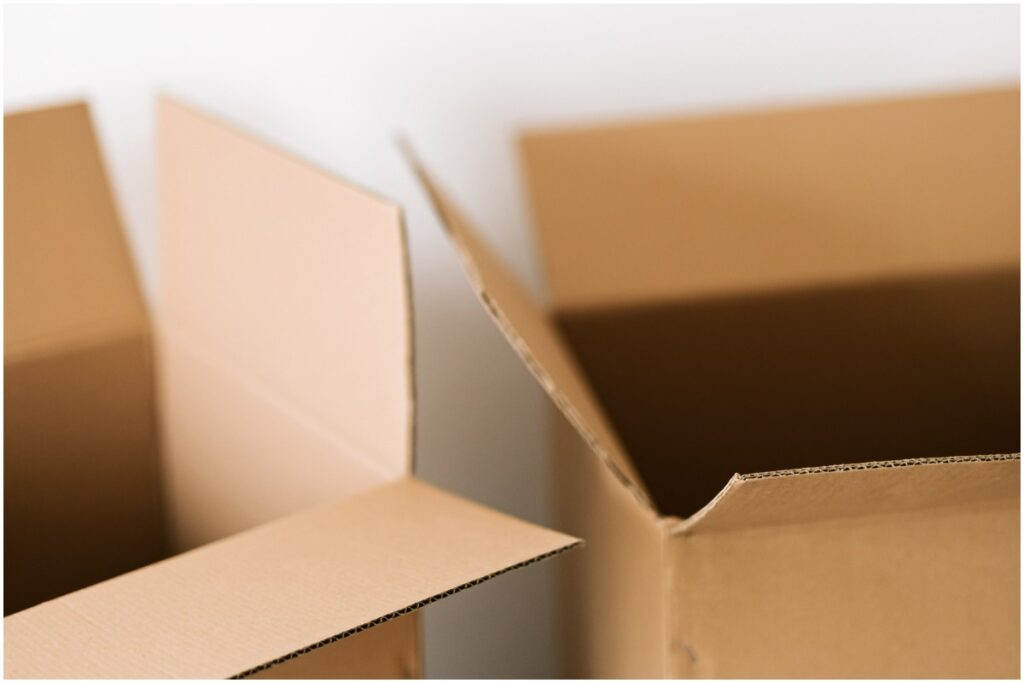 What you'll need to begin packing
In addition to lots (and lots) of cardboard boxes, you'll need several other supplies to ensure that your belongings are packed properly and kept safe on the way to your new home. Here are some packing materials you will need:
Packing tape: It's easy to overlook something as mundane as the type of tape you choose, but using the proper tape will ensure that your belongings remain safe. Opt for packing tape instead of regular office tape, as it tends to be wider and provides a more reliable seal on cardboard boxes.
Bubble wrap: If you're dealing with glass, dishes. or other fragile items, keep plenty of bubble wrap on hand to protect against potential impacts such as drops.
Packing paper: This is an additional tool at your disposal to protect your belongings. Packing paper takes up less room in boxes and is also recyclable.
Don't cut corners with your supplies
Ensuring that you have the right packing supplies on hand will make your move go smoothly and prevent your belongings from breaking. Skimping on supplies to save money can backfire in the long run.
Types of packing boxes
Packing for a move is not a one-size-fits-all affair. There are many different types of boxes needed to store certain items properly. Here is a rundown of what you'll need to store your personal belongings.
Small packing boxes/book boxes have dimensions of 16″ x 12″ x 12″, making them the smallest size typically used for moving. They are ideal for small items such as books or kitchen utensils.
Medium packing boxes have dimensions of 18″ x 16″ x 18″ and are perfect for items such as towels and decorative items such as sculptures or art.
Large packing boxes have dimensions of 18″ x 18″ x 24″ and can store small appliances, bedding, and smaller pillows.
Extra-large packing boxes have dimensions of 24″ x 20″ x 24″ and can hold large, light items like comforters, sports gear, and pillows.
Specialty boxes you'll need
Household items come in all shapes and sizes, and conventional cardboard boxes won't always get the job done. Luckily, there are many special boxes made to fit any number of oddly-shaped items.
Wardrobe boxes include a metal rod across the top of the box and are designed specifically for hanging clothes. You can store items such as belts or shoes at the bottom of a wardrobe box.
Dish barrel boxes are about the same size as medium boxes (18″ x 18″ x 28 or 18″ x 18″ x 18″) and feature extra-thick walls. The double-wall feature protects fragile items like glass, plates, bowls, and cups that are particularly prone to breaking during moving.
Mirror and picture boxes are flat and designed to fit items like artwork, mirrors, and framed photos. You can adjust these to the required size.
TV boxes, as the name implies, can store flat-screen TVs. They can be adjusted to fit a screen up to 70 inches.
Lamp boxes are ideal for tall, narrow items such as lamps or fans.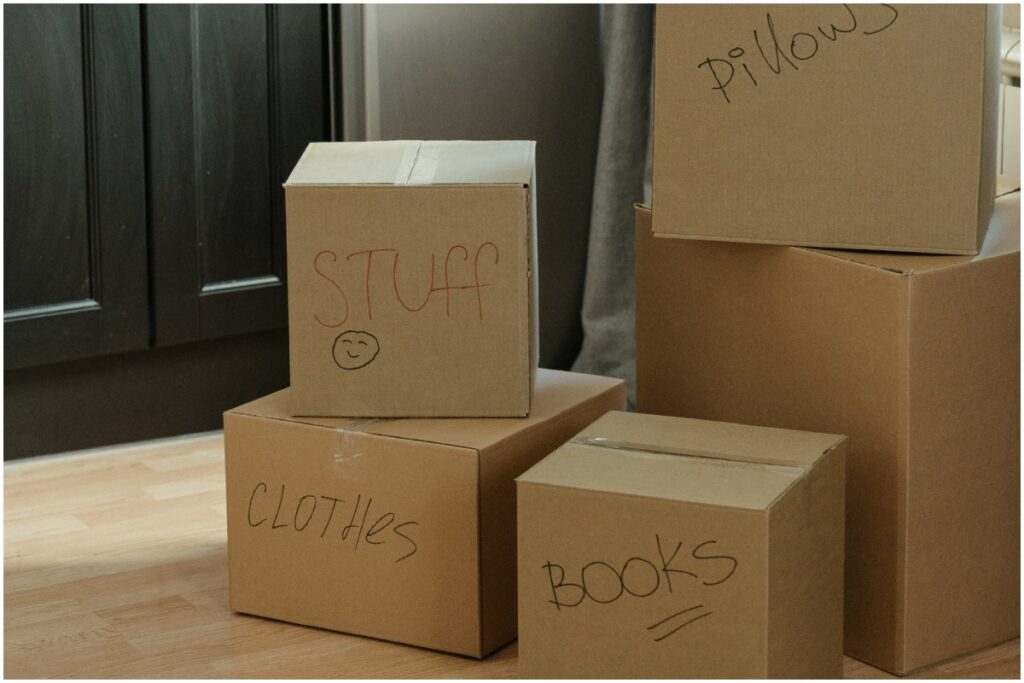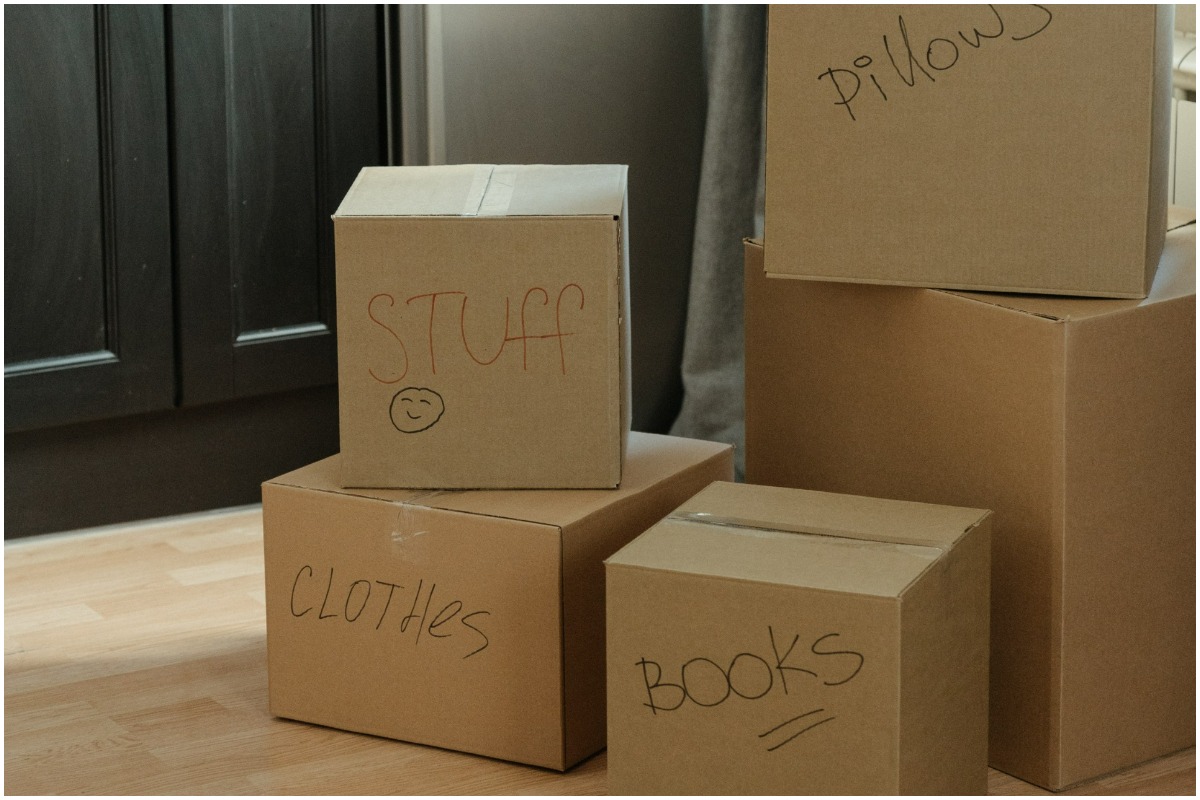 How many boxes do I need to move?
So, how do you know how many boxes you need? There's no magic formula to calculate the ideal number of boxes, but the next few sections should give you a general idea.
Calculating how many boxes you need in advance saves you time and money; avoid running out multiple times to get more boxes or spending money on boxes you don't need. Generally, the longer you have lived in your home, the more stuff you will have accumulated. If you're a packrat, now's the time to own it.
Factors that determine how many moving boxes you need to move
Number of rooms
The type of home you live in and the number of rooms your home has can serve as the simplest indicator of how many boxes you need to prepare for a move. A studio apartment might only require a dozen or so boxes. On the other hand, a four-bedroom house will likely call for north of 100. If you find the packing process overwhelming, this is a simple way to estimate the number of boxes to buy.
Breakdown by number of rooms
| Home type | Studio apt | 1 bedroom apt | 2 bedroom apt | 2 bedroom house | three bedroom house | 4 bedroom house | 5+ bedroom house |
| --- | --- | --- | --- | --- | --- | --- | --- |
| # of boxes | 10-20 | 20-40 | 40-60 | 60-80 | 80-100 | 100-120 | 120+ |
Square footage
It probably comes as no surprise that moving out of a larger home generally means having more stuff to move. The square footage of your space is a decent indicator of how many moving boxes you will need to relocate all of your belongings. For example, moving out of a small apartment (500 square feet) might only require 25 boxes. On the other hand, a larger house (2,000 square feet) might need up to 130. The size of your home is not the sole determining factor in figuring out how many boxes you're going to need, but it can provide you with a good benchmark.
Room type
Another way to estimate how many packing boxes you'll need to move is by considering the types of rooms in your home. This is a slightly more specific way to approximate the number of boxes required to move all your things successfully. Here's a room-by-room breakdown of how many boxes you need based on room type.
Breakdown by room type:
| | | | | | | |
| --- | --- | --- | --- | --- | --- | --- |
| Room type | # of small boxes | # of medium boxes | # of large boxes | # of extra-large boxes | # wardrobe boxes | # of dish packs |
| Kitchen | 2-4 | 5-6 | 4 | 2 | 0 | 4-6 |
| Dining room | 1-2 | 1-2 | 0 | 0 | 0 | 2-4 |
| Bathroom | 2 | 1 | 0 | 0 | 0 | 0 |
| Master bedroom | 1-3 | 5-6 | 5-8 | 0 | 4-6 | 0 |
| Other bedrooms | 1-2 | 3-5 | 0 | 3-5 | 2-4 | 0 |
| Living room | 2-4 | 3-4 | 2-4 | 1-2 | 0 | 0 |
As you can see, the kitchen and the master bedroom tend to use the most boxes. One thing to consider is that the number of boxes used for bedrooms can vary widely based on who's using those rooms, especially if you're moving with kids. A toddler is unlikely to have as many personal belongings as a teenager, and the total box count will reflect this.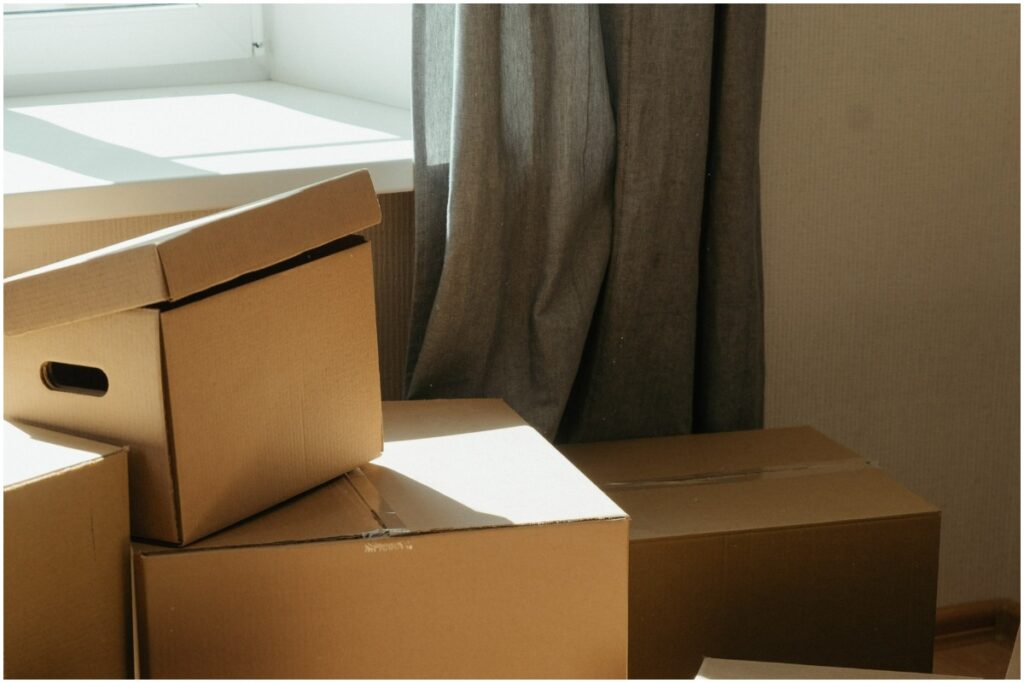 How many boxes do I need to move based on my lifestyle?
Lifestyle is an important factor to consider, as two houses with the same dimensions or rooms can have very different needs regarding the number of boxes needed to move. Whether you live in a studio apartment or a large house with a walk-in closet, your lifestyle will significantly affect how many moving boxes you'll need. Whether you enjoy skiing, pottery, painting, or any other hobby, those additional items will also need to move.
Tips for a successful move
Don't overfill your boxes
It can seem intuitive to cut costs on boxes by filling them to the max. In reality, this is often counterproductive because it leaves less of a cushion between the box's contents and the environment on the outside. Remember to leave room in the box for packing paper or bubble wrap for adequate protection. Remember that a few extra boxes won't outweigh the cost of replacing your fine china if it breaks.
Buy more boxes than you think you'll need
On a similar note, there's no need to be stingy when buying boxes. Cardboard boxes are relatively cheap, and having to buy more at the last minute only increases the stress of moving.
Take the opportunity to declutter
If you're wary of taking too much stuff to your new place, take the opportunity to get rid of items you no longer need.
Plan ahead and stay organized
With any large undertaking, preparation is key, and this certainly applies to moving. Give yourself plenty of time before moving day to strategize. Be sure to clearly label each box with its contents and where it needs to go. This will make the unpacking process go much smoother.
Although there is no hard and fast rule when packing for a move, these tips and guidelines will help you find out how many boxes you need for a successful move.
Chose a right moving company
If you feel tired after reading this, maybe the best answer is to hire movers and make your life a little bit easier.