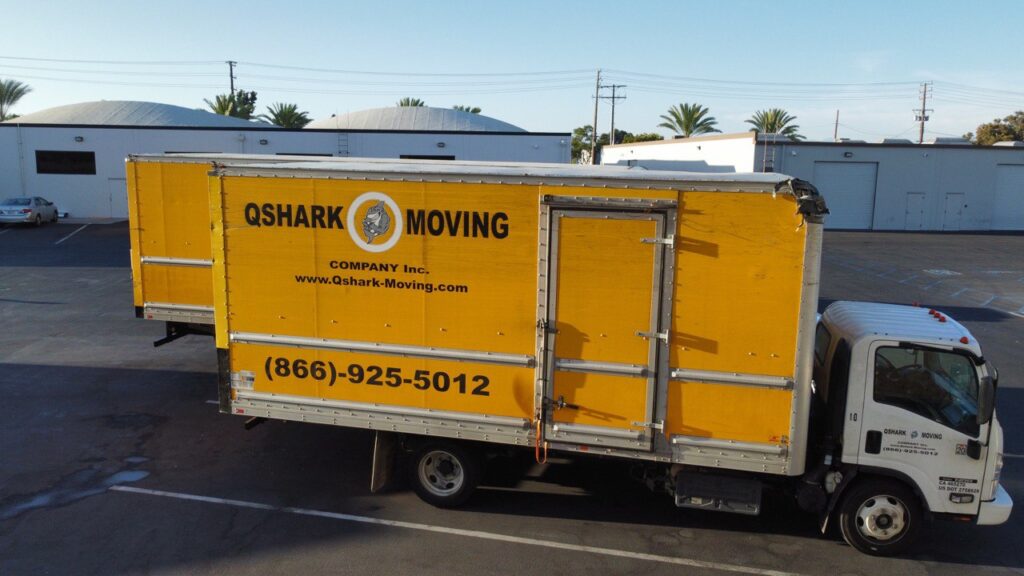 What Do Movers Do?
Welcome to Qshark Moving Company's definitive guide on what do movers do. Whether you're preparing for a local move, planning an office relocation, or simply curious about the moving process, this guide is designed to provide a comprehensive insight into the workings of a moving company.
Qshark Moving Company:

Your Top Choice for a Seamless Move At Qshark Moving Company, we are committed to providing top-quality moving services. Our team of best movers are experts in their field, equipped with the skills, tools, and dedication necessary to handle your move. No matter the size or scope, we prioritize your peace of mind above all else.
We specialize in a range of services, including but not limited to:
Our teams of professional movers operate across various regions, with specialized services offered by our Orange County Movers, Movers San Diego, and Irvine Movers.
In this guide, we will delve into each aspect of our moving service, breaking down the process step-by-step to give you a clear understanding of what to expect when you hire professional movers.
Quote: "Moving doesn't have to be stressful. With the right moving company, it can be a breeze!"
At Qshark Moving Company, we make it our mission to be the cheap movers who don't compromise on quality. We believe in transparent pricing, detailed planning, and exceptional customer service.
From the initial consultation to the final stages of settling in, we will be there every step of the way, helping to ease your transition and ensure a smooth moving experience. Our movers aren't just day laborers; they're highly skilled professionals ready to offer expert advice and practical solutions for all your moving needs. Explore more about our day labor services.
Stay with us as we unravel the moving process, detailing each step and how Qshark Moving Company ensures your move is seamless and stress-free.
II. Initial Consultation
Starting your moving journey begins with an initial consultation. Here's how it works with Qshark Moving Company:
Contacting Qshark Moving Company To initiate your move, contact us through our website or by phone call. Our dedicated customer service team is always ready to answer your inquiries and guide you through the process.
Information You Need to Provide During this consultation, we'll ask you to provide some basic information, such as:
Your current address and the address of your new home or office
The estimated move-out date
The size and type of property
Any special items requiring extra care or special handlings, such as pianos or valuable antiques
The Moving Estimate With the provided information, we can offer you an estimated quote for your move. Our professional movers use a detailed process to ensure the estimate is as accurate as possible.
It's important to remember that this is just an estimate. The final cost could vary depending on various factors which we'll cover in the "Billing and Payment" section.
III. Pre-Move Planning
A successful move requires meticulous planning. Here's how we at Qshark Moving Company handle this critical phase:
Pre-Move Survey To ensure we completely understand your moving needs, our Orange County Movers, Movers San Diego, or Irvine Movers conduct a pre-move survey. This involves an in-depth review of the items to be moved and an assessment of any potential challenges, such as narrow doorways, large furniture, or complex items.
Determining the Moving Date Based on your preference and our availability, we will then agree on a moving date. Keep in mind that certain times of the year, particularly the summer months, are high-demand periods in the moving industry, so it's wise to book your move in advance.
Customizing Your Moving Plan Every move is unique, so we tailor our services to suit your specific needs. This could include local moving, office moving, piano moving, or long-distance moving.
Stay tuned for our next sections, where we'll detail each service we offer and how we ensure a smooth transition from your old place to your new home or office.
IV. Packing Services
Packing is an essential part of the moving process. At Qshark Moving Company, we offer comprehensive packing services to ensure your items are secure and ready for transportation.
Our Packing Process Our expert movers and packers apply their skills and utilize high-quality packing materials to protect your belongings. Here is a detailed look at our process:
Assessment of Items: We first inspect all the items that need to be packed. This helps us determine the right packing materials and the best methods for each item.
Use of High-Quality Packing Materials: We use various packing materials such as durable boxes, wrapping paper, bubble wrap, packing peanuts, and specialty containers for delicate or valuable items.
Packing: Our team carefully packs your belongings, ensuring each item is well-protected and properly labeled. We take special care with fragile items, using extra padding and support to prevent damage.
Specialty Packing: Some items require specific packing methods. For example, as expert piano movers, we have specialized equipment and techniques to ensure the safe transport of your instrument.
Self-Packing If you prefer to pack your belongings yourself, we can provide packing materials and guidance to help you do so effectively. We understand that some people feel more comfortable handling their own items, and we fully support this decision.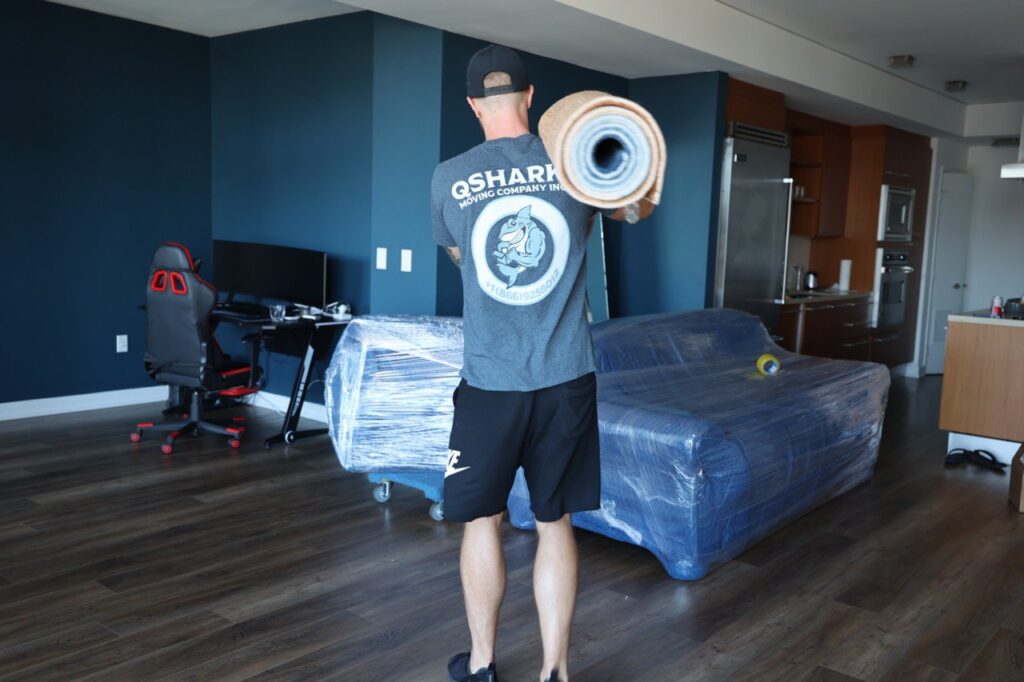 V. Loading and Transportation
Once your items are packed and ready to go, the next step is loading and transportation. Our professional movers are trained in proper lifting and loading techniques to ensure a safe and efficient process.
The Loading Process involves carefully placing your packed items into our moving trucks. We strategically arrange items to maximize space, ensure safe transportation, and facilitate easy unloading at your new location.
Safe Transportation, Our drivers are experienced, licensed, and committed to transporting your belongings safely. We follow all traffic regulations and use GPS technology for efficient routing.
Staying in Touch Throughout the moving process, our team maintains clear communication with you. Whether we're long distance movers or performing a local move, we'll keep you updated on our progress.
The next section discusses what happens once we reach our new home or office.
VI. Unloading and Post-Move Services
The unloading and settling-in begins once we've arrived at your new destination. Qshark Moving Company's dedication to customer satisfaction extends far beyond transportation. Here's what you can expect:
Unloading Process Our team of professional movers will carefully unload your items from our trucks, making sure to handle each item with care to prevent any damage. We'll then carry everything into your new home or office, placing boxes and furniture in the rooms as you've directed us.
Assembly and Arrangement If you've opted for our assembly services, we'll reassemble furniture and set up any items that require it. We'll also arrange furniture according to your instructions, ensuring your space is set up just the way you like it.
Removal of Packing Materials Nobody wants to be left with a mountain of empty boxes and packing materials after a move. That's why we offer to remove all packing debris once the unpacking is done, leaving your new home neat.
Handling Issues or Damages At Qshark Moving Company, we take every precaution to prevent damages. However, in the unlikely event that something goes wrong, we have clear procedures to promptly and fairly address the situation.
In our next sections, we'll discuss additional services we offer, such as storage and day labor, before diving into the specifics of billing and payment.
VII. Storage Services
In some cases, you may need to store your belongings for some time during the moving process. Whether it's due to a delayed move-in date, a downsizing move, or any other reason, Qshark Moving Company is here to help with our secure and convenient storage services.
When and Why Storage Might Be Needed There are several scenarios when storage might become necessary:
Delayed move-in: If your new home or office isn't ready when you need to move out of your old one.
Downsizing: If you're moving to a smaller space and don't have room for all your belongings right away.
Temporary move: If you're making a temporary move and only need a subset of your belongings.
Our Storage Facilities Our secure, climate-controlled storage facilities offer a safe place for your belongings. We take great care in protecting your items from damage and environmental factors.
In the next section, we'll talk about the financial side of things, detailing how we calculate your final bill, accepted payment methods, and potential additional costs.
VIII. Billing and Payment
Understanding the costs involved is one of the most important aspects of a move. At Qshark Moving Company, we believe in transparent billing, ensuring you're fully aware of what you're paying for. Let's break it down:
Estimation vs. Actual Costs While we provide an estimate during the initial consultation, the final bill may vary based on actual conditions on a moving day. Factors that may influence the final cost include:
Additional packing materials or services used
The actual weight of your items (for long-distance moves)
Unforeseen challenges such as access issues at the new location
Transparent Invoicing We provide a detailed invoice outlining all costs associated with your move, from packing materials to labor and transportation fees. This allows you to see exactly where your money is going.
Payment Methods We accept a variety of payment methods for your convenience, including cash, credit cards, and bank transfers.
Deposits and Cancellations In certain circumstances, we may require a deposit to secure your moving date. Our cancellation policy is laid out in our terms and conditions, ensuring no surprises if your plans change.
IX. Day Labor Services
At Qshark Moving Company, our day labor services are designed to help with a variety of tasks beyond moving. If you need assistance with heavy lifting, loading, unloading, or other labor-intensive tasks, our team of professional movers is here to help.
Benefits of Day Labor Services Day labor can be beneficial in several scenarios:
If you're doing a DIY move but need help with heavy lifting
If you're organizing your home or office and need assistance moving large items
If you're hosting an event and require help with setup and teardown
Our day labor services are flexible and customizable to your specific needs.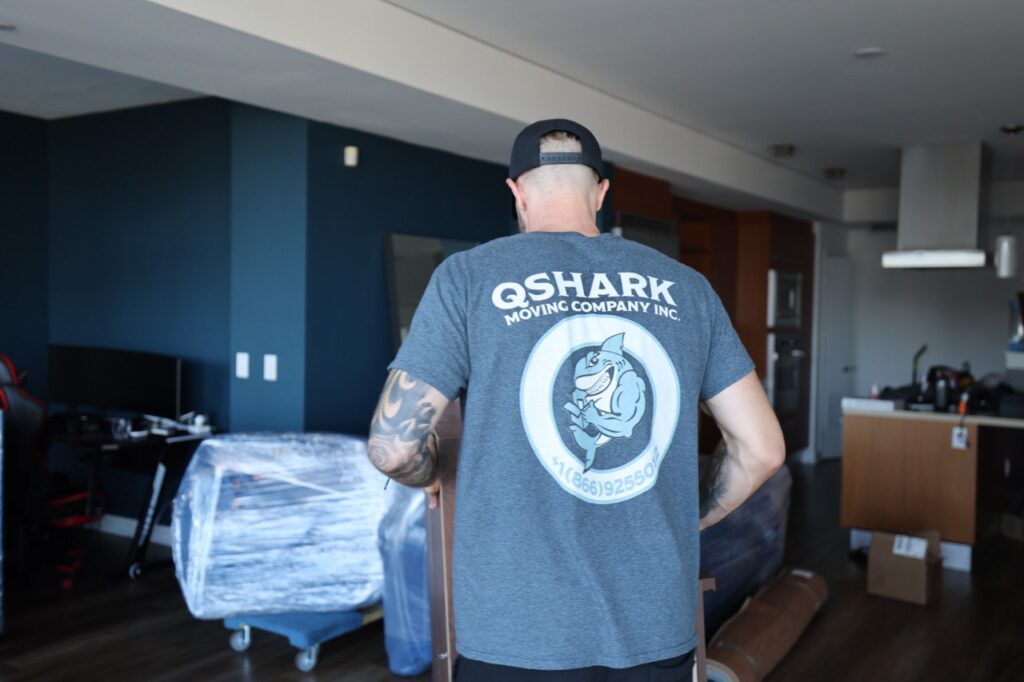 X. Conclusion
Moving doesn't have to be a daunting task. By choosing the best movers, you can make the process seamless and stress-free. Qshark Moving Company is committed to providing excellent service, from the initial consultation to post-move services. Contact us today and let us make your next move your best move.
XI. Frequently Asked Questions (FAQs)
This section will answer some of the most commonly asked questions about our services and the moving process.
Q1: How far in advance should I book my move? Ideally, you should book your move as soon as possible – typically, at least a month in advance. During peak moving times (such as summer and end of the month), availability might be limited, so early booking is recommended.
Q2: What items are movers prohibited from transporting? Movers are generally prohibited from transporting hazardous materials, perishable goods, plants, and pets. Feel free to ask us if you're unsure about a specific item.
Q3: Can I pack my belongings myself? Yes, you can. If you choose to pack yourself, we can provide packing materials and offer guidance on how to pack effectively. Remember, proper packing is key to protecting your belongings during the move.
Q4: Can Qshark Moving Company move oversized or unusual items? Absolutely. We have experience in moving a wide range of items. Our piano movers team, for instance, specializes in moving pianos and other large or unusual items.
Q5: Is Qshark Moving Company insured? we are fully insured and licensed. We adhere to all state and federal regulations, ensuring your move is carried out professionally.
XII. Contact Us
Ready to make your move? Contact Qshark Moving Company today. Whether you're seeking the services of cheap movers without sacrificing quality or require the expertise of our specialized office moving team, we are here to assist.
You can reach us through our website or by phone. Let's start planning your stress-free move today!
---
About Qshark Moving Company
Qshark Moving Company is a top-rated moving company dedicated to providing a seamless and stress-free experience. We offer a range of services, including local moving, office moving, piano moving, packing services, long distance moving, and day labor.
We're proud to serve various regions with our Orange County Movers, Movers San Diego, and Irvine Movers teams.
With Qshark Moving Company, your move is in good hands.