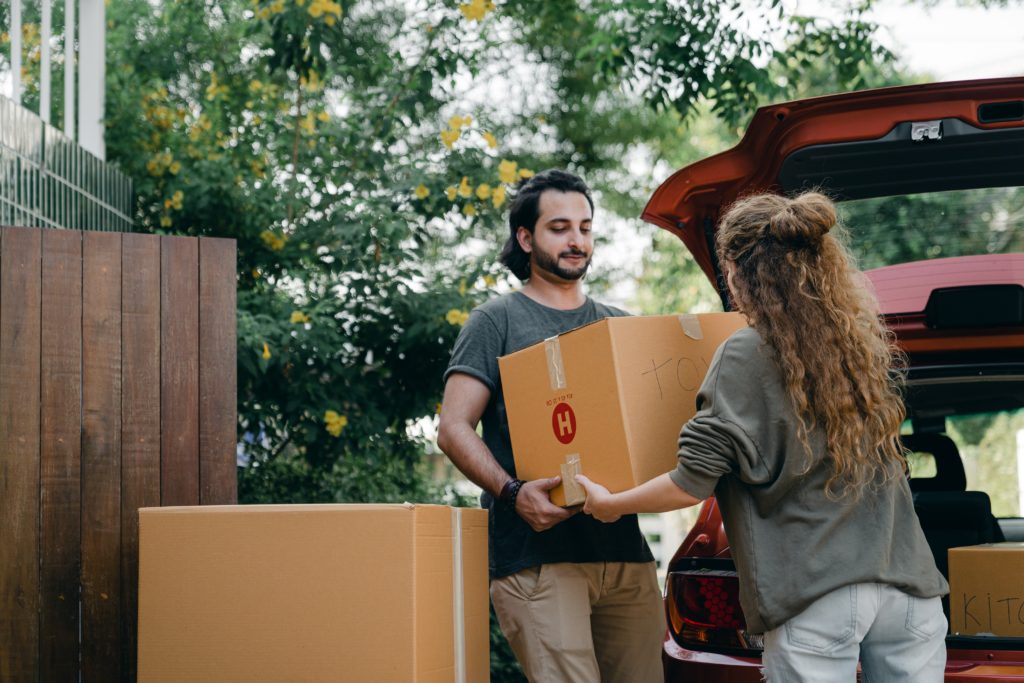 February 4, 2021 by Julia Weaver
It's no surprise that moving is one the most stressful life events. Moving to a new place requires careful planning, organization, and stamina. No matter how many times you do it, it never seems to get any easier.
There are many things in life that are best learned through trial and error. Moving, however, is not one of those things. Whether you're moving to a new home in your local housing market, or from Sacramento, CA to New York, NY, there's plenty of room for error. To help your move go seamlessly, we've asked experts to share the most common moving mistakes they see so you can ensure a smooth transition for your belongings over any distance. 
Not scheduling shuttle services on delivery
Shuttle services are when the large moving van (18-wheeler likely) cannot gain access to your destination to complete the delivery. This may be due to narrow roads, no parking, restricted areas and roads that do not allow for 18-wheelers. Your mover will need to get a smaller truck, and this will come with added cost for the rental, added time to offload your contents from the main delivery truck, verifying everything is accounted for, and time to load those contents on to the new truck before making the delivery. It is the customer's responsibility to know if a shuttle will be needed on delivery, because they will likely need to factor this into their overall budget. – AAA Moving & Storage
Not choosing the right moving company
Most folks would say other than their home and car that their household items are one of the largest investments they'll make. Choosing the right moving company will either take care of that investment or ruin it. Ask the right questions and many of them, make sure they are communicating and asking you questions too, check their reviews, go by and see their facility and how they operate, get references, and a written estimate. – Heroes Moving & Storage
Don't accept an over the phone estimate or quote
Every home has a different driveway, different doorways, different furniture, and listing it over the phone isn't a very reliable way to get an estimate. At Five College Movers we started doing estimates virtually during the pandemic. A quick 15 minute facetime/zoom meeting to get a reliable, fast, contact free moving quote is the way to go, especially in today's day and age. – Five College Movers
Not assessing whether your furniture fits in your new home
When you are close to moving day, you want to think ahead, into the situation. Will all the furniture or items leaving the old home fit into a differently designed new home? Will it fit into rooms, hallways or upstairs? Are there other obstacles at the new location? Homemade furniture often has to be disassembled before relocating. – M&M Moving Co.
Forgetting to prepare
The more you're able to have boxed, organized, and ready in advance of your move saves you considerable time and money on moving day. – Low Cost Movers
Falling into the following pitfalls
1) Not understanding how moving insurance works, and 2) Making sure the movers have a complete and accurate list. If you're stressed out during your move, and there are no other issues, you'll still have a bad experience because of the stress. More than anything else, covering these two points thoroughly will minimize the possibility of stressful situations arising. – EverSafe Moving Co.
Over or underfilling your dressers and boxes
I know it seems easy to just throw in as much as you can and it may save some time packing. But it will lead to a whole lot of strain when the items are being moved and can increase the likelihood of damage/mistakes! – Moving U & Junk U
Packing boxes is a very simple but at the same time complicated task, our tip is to make sure all your boxes are filled to the top, and the box has a firm state. A lot of people make the mistake of putting too many or not enough items in the boxes which causes the box to collapse during transportation. – Qshark Moving Company
Packing and moving items that you don't need
The most common mistake we see when customers are moving is that they end up packing and moving items that they don't need and they end up donating or disposing of them after they move and pay for those items to be moved and packed. – Movegreen
Accepting the cheapest bid
Avoid having a horror story, the cheapest bid may very likely cost you the most. Do your research and make sure you read through the valuation coverage options closely. – First Due Movers
Packing everything yourself
Poor packing leads to frequent damages, avoid this by having highly trained crews do the packing for you. – Eco Movers
Not being prepared for the movers
Put all the essential medication and personal items into one bathroom and lock it. You're paying those guys from the moment they set foot on your property, and there are too many times that movers have to start unloading boxes to find medication or other personal things that customers forgot to take out. This ends up costing you more. And, if you don't need storage, don't do it. People usually end up storing their stuff for a lot longer, costing them more than the stuff is actually worth. So unless it's absolutely worth it, storage is usually an expensive mistake. – Shyft Moving
Packing the more fragile and delicate items yourself
Many customers prefer to pack the more fragile and delicate items themselves; and then have the movers pack non-breakable items such as books and clothing. We encourage our customers to do the complete opposite. We are professional packers. By letting us pack, it will ensure your fragile items are safely prepared for transport and also covered by the movers liability insurance. – Flatbush Moving Van Co.
Waiting until last minute to plan and pack
We always see people underestimating the amount of time and labor that goes into the planning and executing a move. And more often than not, this results in stress and exhaustion on the day of the move. Start planning and packing early on and give yourself the time to enjoy the move. And, always have a contingency in place. Unexpected things can happen all the time, and when they do, you have to be ready. Always leave extra room in your budget, for unplanned expenses such as bonus moving services, storage rental, packing supplies, etc. – Pro Movers Miami
Not planning for pets
Moving can be stressful and harmful to pets. Dogs and cats are creatures of habit and having strangers in the house taking their furniture can be confusing and disorienting. Plan on having relatives, friends or even a pet hotel take care of your furry friends for the day. It keeps traffic to a minimum inside the house and everyone will get through the process smoother. – Justin Hodge, Co-Founder of Muscular Moving Men & Storage
Not taking the time to read and understand your estimate 
Movers provide different types of estimates and services inclusive in the quote. Comparing quotes based on what appears to be the final price is not enough. Take time to read your estimate, ensure that you understand what is included in the quote. Do you require additional services like packing? Make sure that the corresponding charges are clearly stated in your estimate. Is it an hourly estimate or a flat rate? Even if you received a flat rate estimate, if your inventory is more on the day of the job, you will end up paying more for your move. It is essential that you carefully read all the information provided, pay extra attention to the fine print and review the moving company's terms and conditions for moving. – JP Urban Moving
Underestimating the size of your moving project
You may not realize how much stuff you have before you start moving things and if you're trying to postpone packing that might not be the best idea. Instead, try to prepare for your relocation at least a week before the move. – Born to Move
Keeping things you don't need anymore
First, if you are not sure where to place it in your new home, it goes in the garage, not the basement. Your legs will thank us later. Second, yes, your Ikea furniture needs to come apart to be moved. And third, everyone has a piece that causes conflict, the chosen ones hire movers and preserve the peace. – Dirty Deeds Moving
Not packing and unpacking with a plan in mind
Pack an overnight bag, containing all the essentials, and leave it separately. Clients can also pack the items that they will need first in a clear plastic bin/bag. Try to pre-clean the new home before moving in to make organizing much easier. Pre-cleaning reduces stress for new homeowners, because new places could look like messes after moving stuff in. Last but not least, people usually unpack without a system. We would recommend starting with the necessities, and getting the kitchen done first. Bedrooms are next, then bathrooms, followed by assembling and arranging furniture. Dealing with utility areas is last. – NK Movers