Professional and Trained Movers | Qshark Movers
Estimate your moving cost for free: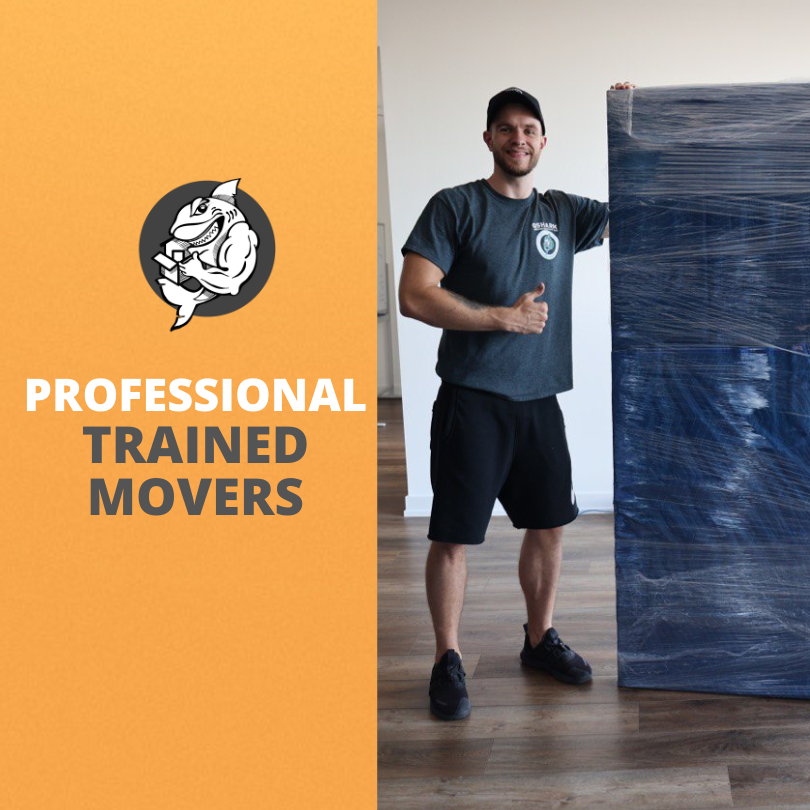 Qshark Professional and Trained Movers
At Qshark Moving Company, we deeply understand that moving can be stressful. Our objective is to alleviate that stress by providing exceptionally professional movers who guarantee the best customer service. Each Qshark professional is more than just a mover; they are highly trained experts in the moving industry.
What Makes Us Different:
Qshark Professional And Trained Movers
Qshark Moving Academy
Backround Checks and Screening
Family Mentality
Our Commitment to Professionalism
We are resolute in our commitment to professionalism. Our movers are continuously trained to provide a seamless and stress-free moving experience. We believe in going the extra mile to ensure your moving day is as smooth as possible. Our team:
Strives to understand the unique needs of each customer
Is dedicated to handling your belongings with the utmost care
Provides transparent communication throughout your moving journey
Rigorous Training Program
Every Qshark mover undergoes a rigorous training program to become proficient in every aspect of the moving process. We understand that quality moving service begins with well-trained employees. Our training includes:
Understanding the Qshark philosophy and customer service expectations
Learning the best packing and moving techniques for efficiency and safety
Gaining knowledge about furniture disassembly and assembly
High Standards of Service
Our high standards of service define who we are. We aim to deliver unmatched service, and to do that, we ensure our movers are equipped with the necessary skills. They are held to the highest standards in:
Time management: Being prompt and respectful of your time
Respectful communication: Ensuring all interactions are polite and professional
Care for belongings: Treating your items as if they were our own
At Qshark, we pride ourselves on providing moving services of the highest standard. From our rigorous training programs to the high expectations we hold for our staff, you can trust us to deliver the professionalism and customer service you deserve on your moving day.
Qshark Moving Academy
Introduction to Qshark Moving Academy
Qshark Moving Academy is the educational backbone of our moving company. Designed to uphold and enhance our highest service standards, the Academy provides a comprehensive two-week course to our aspiring movers.
A Comprehensive Curriculum
Our curriculum is thoroughly planned to cover every aspect of the moving process. Each session is carefully structured to ensure every detail is addressed. In our two-week course, trainees gain knowledge on:
Customer service excellence
Safe and efficient packing techniques
Furniture disassembly and assembly
Accurate estimation and quotation procedures
Blend of Theory and Practical Training
At Qshark Moving Academy, we believe that learning is most effective when theory is combined with hands-on experience. We provide:
Detailed video materials to visually demonstrate the best moving practices
Practical sessions where trainees can apply what they have learned in real-world scenarios
This combination of theory and practice allows our trainees to grasp the intricacies of moving operations fully and perform them competently.
Certification and Acknowledgment
Upon successful completion of the course, trainees receive a certificate of completion. This certificate is not just a paper; it is a testament to the rigorous training they have undergone and the high standards they are now equipped to uphold. It is a token of our confidence in their ability to provide the best moving services.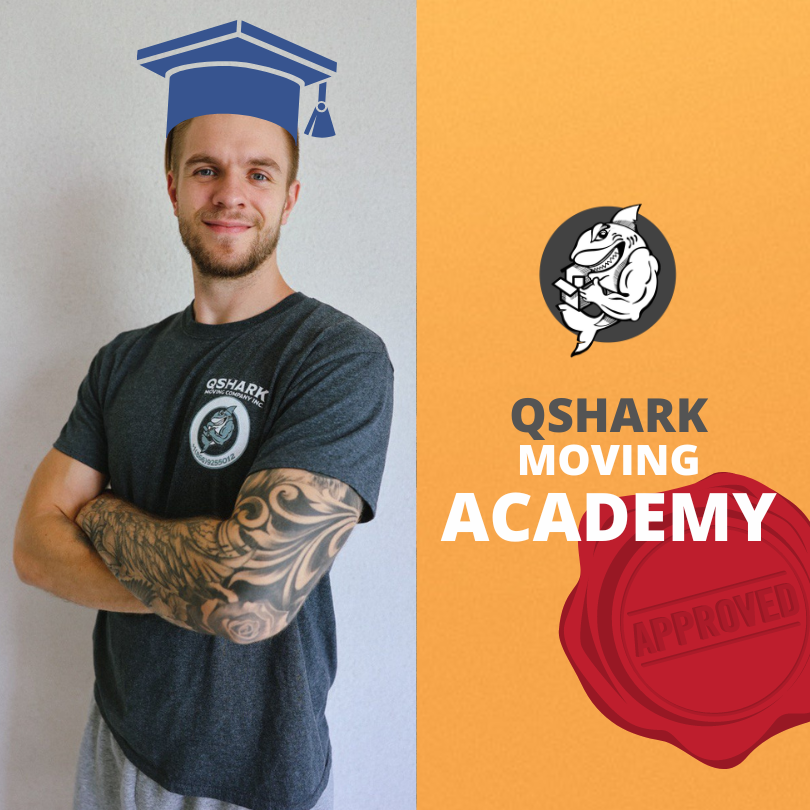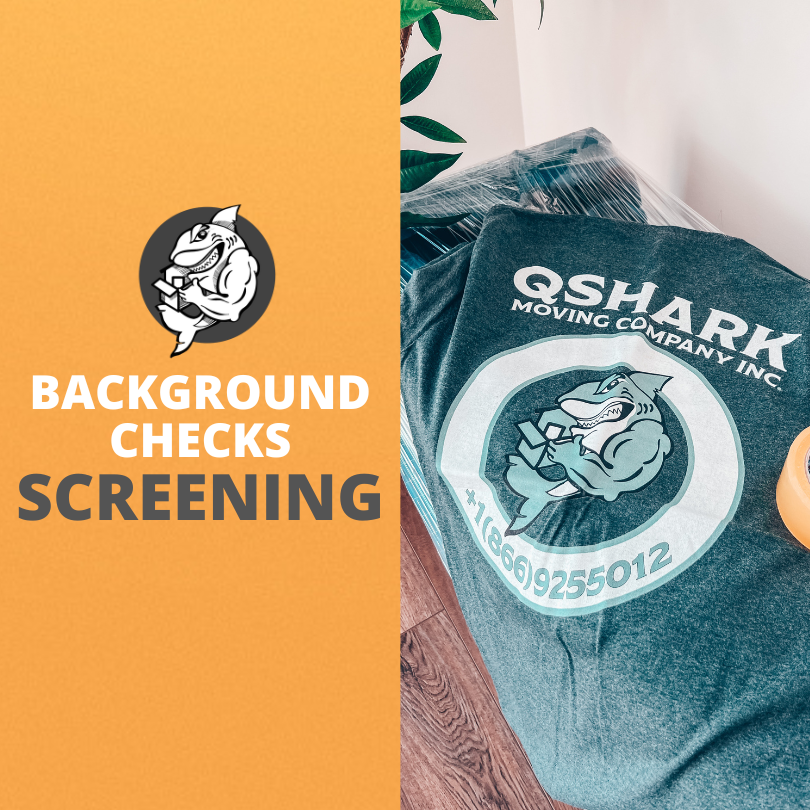 Background Checks and Screening
At Qshark, we prioritize the safety and peace of mind of our customers. That's why we have a thorough pre-employment screening process in place to ensure we have the right people for the job.
Importance of Pre-employment Screening
Pre-employment screening is an essential step in our hiring process. It allows us to verify the credentials of our potential employees and ensure their suitability for the job. This way, we can provide our customers with not only professional movers but trustworthy ones too.
Screening Process
Before joining Qshark, all potential employees must undergo an extensive screening process that includes:
Comprehensive background checks
Verification of references
Thorough interviews
This process ensures that we have a team of reliable and responsible professionals who will handle your belongings with the utmost respect and care.
Family Mentality at Qshark
Our moving team at Qshark isn't just a team; we're a family. We believe that treating our employees like family is the foundation for a strong, dedicated workforce that is passionate about providing the best service to our customers.
The Qshark Family
Our company culture is centered around a family mentality. We believe that nurturing a familial atmosphere fosters respect, teamwork, and personal growth among our staff. At Qshark, every member is recognized and valued, creating a supportive work environment that fuels motivation and commitment.
Providing Support
Just as a family does, we strive to support our movers in all aspects of their lives, understanding that happy and fulfilled employees deliver the best services. Our support extends to:
"Prompt and Professional": Many reviews mention our punctuality and professionalism, stating that our team arrives on time and handles the job professionally.
Financial assistance: We help our movers navigate financial challenges, understanding that stability in life translates into performance at work.
Living assistance:We provide support when our movers need help securing housing or other living needs.
Counseling and advice: Whether it's work-related or personal, we're always here to listen and provide guidance.
Investing in Education
We believe in empowering our movers through education. That's why we offer scholarships and encourage continual learning. By providing educational opportunities, we ensure our movers can grow professionally and personally, equipping them with the tools for a bright future.
The essence of Qshark lies not only in providing excellent moving services but also in fostering a strong, supportive community within the company. By treating our movers like family, we guarantee they deliver their best, transforming your moving day into a pleasant, stress-free experience. As you entrust your moving needs to Qshark, you're not just hiring movers; you're becoming part of our family.