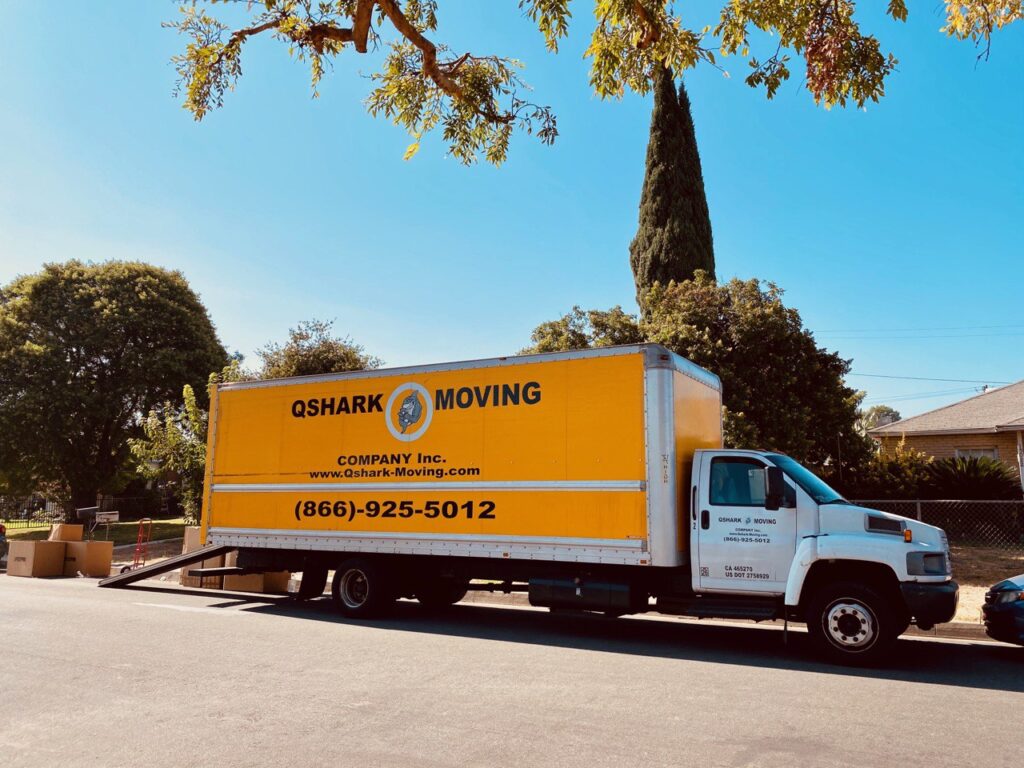 What To Do While Movers Are Moving?
Moving locally or over a long distance can be an exhilarating yet stressful experience. It's a time of transition, of change, and of new beginnings. Yet the process itself, from sorting out your belongings, and packing them securely to finally unpacking at your new location, can feel like a daunting task. However, this doesn't have to be the case. So what to do while movers are moving?
When you hire professional movers, you're entrusting them with more than just your belongings. You're entrusting them with the transition to a new chapter of your life. As such, selecting top movers isn't just about finding the cheapest offer—it's about finding the best movers who provide value and peace of mind.
At Qshark, our goal is to ease that transition and turn the daunting task into a smooth and enjoyable experience. We provide a comprehensive range of moving services, from local moving to long-distance relocations, office moving, and even specialized services like piano moving and packing services. Our team is committed to handling your items with utmost care and professionalism, ensuring they arrive at your new home safe and sound.
Whether you're searching for Orange County movers or Movers San Diego, whether it's an Irvine office relocation or you're in need of Irvine movers for your home, we've got you covered.
Pro Tip: Start planning your move well in advance. Last-minute moves are often more stressful and potentially more expensive.
Introduction.
In this guide, we'll take you through the moving process step-by-step, from when you decide to move to when you're settling into your new home. You'll find practical advice on how to prepare your belongings, what to expect on a moving day, and tips for settling into your new home.
To assist you with specific tasks, we've included links to our packing services, office moving, piano movers, day labor services, and long distance movers.
Whether you're a first-time mover or have been through the process before, we hope this guide will be an invaluable resource. With the right knowledge and support of a dedicated moving company, we believe your moving experience can be positive and stress-free.
Let's get moving!
II. Before the Moving Day
A. Research and Choose Your Services
The first step in any moving journey is understanding the needed services. Are you moving locally or long-distance? Do you need help packing or do you prefer to do it yourself? Do you have special items like pianos that require extra care? Here are some considerations:
Once you've identified your needs, you can request a quote from our moving services page.
Pro Tip: It's always a good idea to request quotes from several companies to ensure you're getting the best value. However, remember that the cheapest option may not always be the best one. Look for a balance of price and service quality.
B. Initial Contact and Booking
Once you've chosen your services, the next step is to book your move. This process involves providing some basic information:
The size of your current home
The location of your new home
The desired moving date
An estimate of how many items you'll be moving
During this initial contact, we will also answer any questions you may have about our services or the moving process in general. This is also the perfect time to mention any special requirements or concerns you might have, such as moving specialty items or any access issues at your current or new home.
C. Pre-move Consultation
A pre-move consultation is a crucial step in ensuring a smooth move. During this meeting, one of our moving consultants will visit your home to take a more detailed inventory of the items you plan to move. This allows us to make more accurate estimates and plans for your move, including how many movers will be needed, what size truck to use, and how much packing material will be required.
Pro Tip: A pre-move consultation is also a great opportunity for you to ask any remaining questions you may have. Be sure to walk the consultant through your home and point out any items that need special attention.
D. Preparing for the Move
Once your move is booked, it's time to start preparing. This stage is crucial in ensuring your move goes as smoothly as possible. Here are some things you should consider doing:
Declutter: Sort through your belongings and decide what you want to take. This is a good time to get rid of any items you no longer need or use.
Pack: If you've opted to pack your items, start packing non-essential items early. Make sure to label each box with its contents and the room it belongs to.
Prepare for the Movers: Make sure there's a clear path for the movers to navigate through your home. If there are any items you don't want the movers to touch, make sure to separate them from the rest.
Take Care of Logistics: Notify your utility companies about your move and change your address with the post office. If you're moving to a different city or state, you might need to register your vehicle and obtain a new driver's license.
Pro Tip: Don't forget to pack an "essentials box" with items you'll need immediately after your move, such as toiletries, a change of clothes, and important documents.
Next, we'll cover what to expect on moving day and how to make it as stress-free as possible.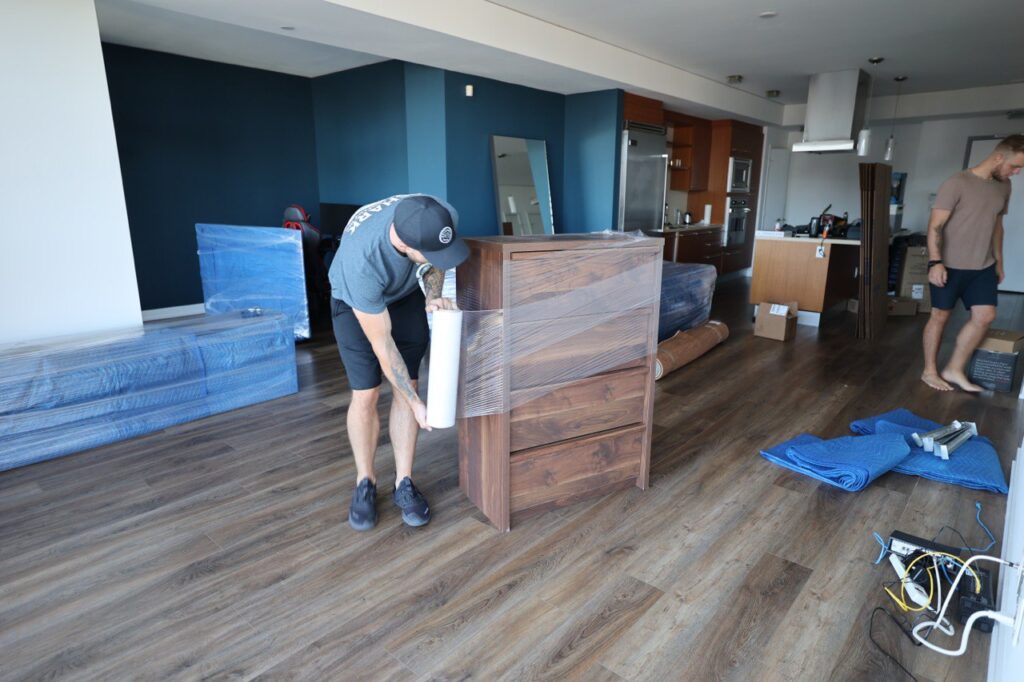 III. On Moving Day
A. Morning Preparation
The morning of moving day can be hectic, but a little preparation can make it much smoother. Here's what you should do:
Pack Last-Minute Items: This includes toiletries, bedding, and any items you need to keep out until moving day.
Double-Check Everything: Walk through your home and make sure everything is packed and ready to go. Check closets, cabinets, and other hidden areas one last time to make sure nothing is left behind.
Prepare Your Home: Remove any obstacles that might hinder the movers' work. This could include securing pets, moving plants, or clearing pathways.
Gather Important Documents: Handy any important documents, such as your moving contract or new lease. You may need to refer to them throughout the day.
B. Arrival of the Qshark Moving Team
When our professional movers arrive, they'll be ready to work immediately. Here's what you can expect:
Briefing: The team leader will introduce the crew, review the move's details, and confirm any special instructions you may have.
Preparation: If necessary, the crew will prepare your home for the move by protecting floors and doorways.
Walkthrough: You'll lead a walkthrough of your home to show the crew which items are being moved and answer any questions they may have.
C. Walkthrough and Initial Inspection
The walkthrough is an essential part of the moving process. It's your opportunity to point out any items that need special care or have unique handling instructions.
Point Out Fragile or Valuable Items: Be sure to let the movers know about any fragile, valuable, or sentimental items.
Highlight Large or Difficult Items: If there are items that are especially large, heavy, or difficult to move, point them out to the movers. This includes items like pianos, large furniture pieces, or appliances.
Discuss Special Instructions: If you have specific instructions for certain items, discuss these with the movers.
D. The Packing Process
If you've chosen to use our packing services, our team will begin packing your items. Here's what you can expect:
Professional Packing: Our team will use professional-grade packing materials and techniques to protect your belongings.
Organized System: Items will be packed according to an organized system, ensuring that boxes are properly labeled and easy to find at your new home.
E. Loading the Moving Truck
Once everything is packed, the team will begin loading the moving truck. Here's how this process typically works:
Strategic Loading: Items are loaded in order to maximize space and protect your belongings. Larger, heavier items are usually loaded first, followed by smaller items.
Secure Transportation: Our team will use padding, straps, and other tools to secure items in the truck and prevent movement during transport.
F. Saying Goodbye to Your Old Home
Before leaving, we recommend doing a final walkthrough of your home to ensure nothing has been left behind. Turn off all lights, check that all windows and doors are locked, and make sure all appliances are turned off or unplugged.
Once you're ready, it's time to say goodbye to your old home and set off for your new one! Our professional movers will handle the transportation so that you can focus on the journey ahead.

IV. At Your New Home
A. Arrival at the New Location
Upon arrival at your new home, the Qshark team will begin unloading your belongings with the same care and precision used during loading.
Initial Walkthrough: To ensure a smooth unloading process, you'll lead a walkthrough of your new home. This gives you a chance to provide any special instructions for unloading and allows the movers to familiarize themselves with the layout.
Strategic Unloading: The team will begin unloading your items, prioritizing larger items first. These items are typically placed directly in their final location in your home.
Assembly: If you've requested disassembly and reassembly services for certain items, the Qshark team will handle this as well.
B. Post-Move Inspection
Once all items have been unloaded, it's time for a post-move inspection. This is your opportunity to check that all of your belongings have arrived safely and that nothing is missing or damaged.
Inventory Check: Go through your moving inventory list and check that all items have been delivered.
Damage Inspection: Inspect your belongings for any potential damage that might have occurred during the move.
If you find any issues, report them to the Qshark team immediately. Our goal is your complete satisfaction, and we'll do everything we can to resolve any problems quickly and professionally.
C. Settling In
With all your belongings safely inside, it's time to start settling into your new home. Here's what you should focus on first:
Unpacking Essentials: Start by unpacking your essentials box. These readily available items will make your first few days in your new home much more comfortable.
Room-by-Room Unpacking: Rather than unpack everything, tackle one room at a time. This makes the process less overwhelming and allows you to see your progress.
Home Setup: As you unpack, start arranging furniture and setting up your home. Consider your daily routines and try to create spaces that support these activities.
D. Post-Move Services
Even after moving day, Qshark is still here to help. We offer a variety of post-move services, including day labor for tasks like furniture assembly, debris removal, or additional unpacking.
Moving is more than just transporting belongings from one place to another. It's about helping you start a new chapter in your life. At Qshark, we're proud to be a part of your journey and committed to making it as easy and stress-free as possible. We hope this guide has been a helpful tool as you plan your move. If you have any additional questions, don't hesitate to contact us. Here's to a successful move and a warm welcome to your new home!
V. After the Move
A. Unpacking
With your items successfully transported to your new home, it's time for unpacking. Here's how to go about it:
Start with Essentials: Unpacking essential items for your bedroom, bathroom, and kitchen. This will make your new house livable from day one.
Unpack Room by Room: A systematic approach helps maintain order and reduce stress. Start with communal living areas, followed by bedrooms, and finally, storage areas like the garage or basement.
Set a Routine: Unpacking can be overwhelming. Setting a routine, such as unpacking a certain number of boxes each day, can help manage the workload.
B. Organizing Your New Space
Arranging your new space is exciting as you get to personalize your new surroundings.
Experiment with Layouts: Try different furniture arrangements to see what works best. Use this opportunity to create a space that suits your lifestyle and aesthetic preferences.
Storage Solutions: Use smart storage solutions to keep your new home tidy. Consider your daily routines when deciding the best locations for items.
C. Post-Move Tasks
Once you're settled, there are a few administrative tasks to take care of:
Change of Address: Ensure all-important contacts, like banks, insurance companies, and subscription services, have your new address.
Update Voter Registration: If you've moved to a new city or state, you'll need to update your voter registration.
Register Your Vehicle: If you've moved to a different state, you'll likely need to register there.
Find Local Services: Look for local services such as doctors, dentists, vets, and other service providers you regularly use.
D. Explore Your New Area
Now that you're settled in your new home, it's time to become acquainted with your new area.
Discover Local Amenities: Find out where the nearest grocery store, hospital, school, or recreational facilities are located.
Meet Your Neighbors: Introduce yourself to your new neighbors. They can be a great source of local information and help you feel part of the community.
E. Leave a Review
Lastly, we encourage all our clients to leave a review of their experience with Qshark. Your feedback helps us improve and provide our future clients the best service possible. It also helps others in choosing a reliable moving company.
Thank you for choosing Qshark Moving Company. We're grateful for the opportunity to have served you and hope your new home brings you much joy and happiness. If you have any further needs, don't hesitate to reach out to us. Remember, whether it's local moving, long distance, or even office moving, we're here to help.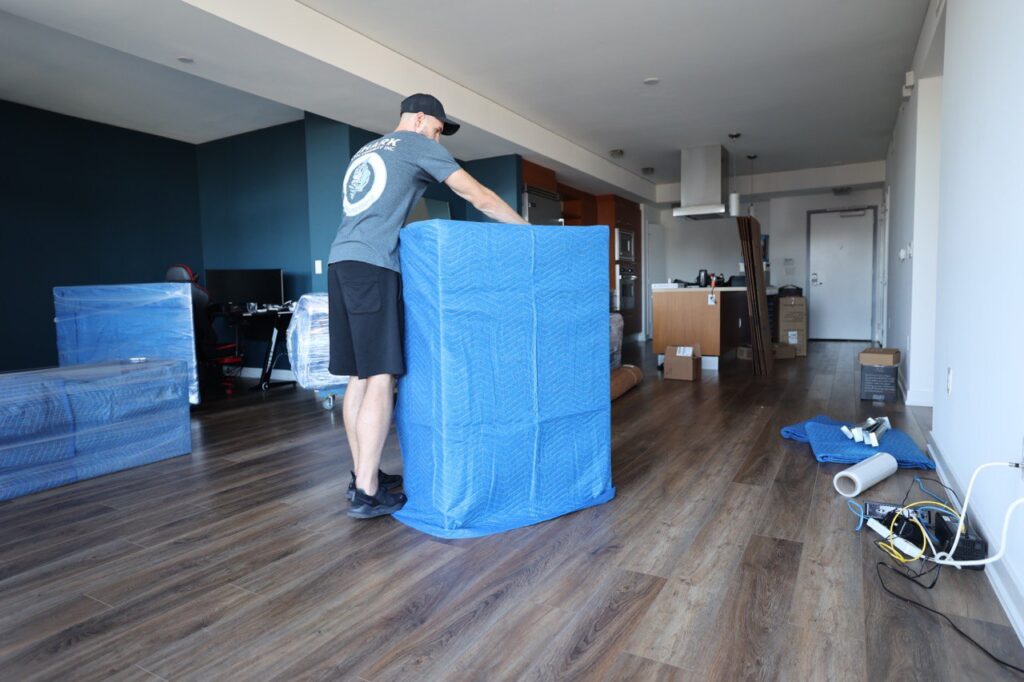 VI. Conclusion
Moving homes is often considered a stressful process, but with the right help and guidance, it can be transformed into an exciting journey to your new home. Whether you're a first-time mover or a seasoned veteran, it's important to be organized and prepared and to choose the right moving service.
With Qshark Moving Company, you're getting top movers and a team that cares about your move as much as you do. We offer a variety of services to meet your unique moving needs, including local moving, long distance moving, and even specialized services such as piano moving.
This guide details that a successful move involves careful preparation, packing, moving day activities, and post-move tasks. We hope this guide has provided useful and actionable information to help you with your upcoming move.
Remember, the key to a successful move is to plan well and hire the best movers who can ensure a safe and efficient move. So, whether you're moving within the same city or across the country or need to move a small apartment or a big office, Qshark is ready to assist you.
If you have any questions, please feel free to contact us. We're always ready to help you make your next move great.
"Moving made easy – that's the Qshark promise!"