Welcome to San Diego, California! Known for its beautiful coastline, diverse cultural influences, and rich history, this Southern California gem is a destination that should be on everyone's bucket list. You might be wondering, "where is San Diego?" From its stunning beaches to world-famous attractions like Balboa Park and the San Diego Zoo, there is something for everyone in this vibrant city, located in the southernmost part of California. So let's dive into the wonders of San Diego and explore its location, history, attractions, and more!
Short Summary
Explore San Diego's amazing culture, landmarks & attractions like Balboa Park and the USS Midway Museum.

Enjoy its Mediterranean climate with 300 sunny days per year plus nearby mountains & deserts for outdoor adventures.

Get a stress-free move to or from San Diego with Qshark Moving Company – top rated on Yelp & BBB!
San Diego's Geographic Placement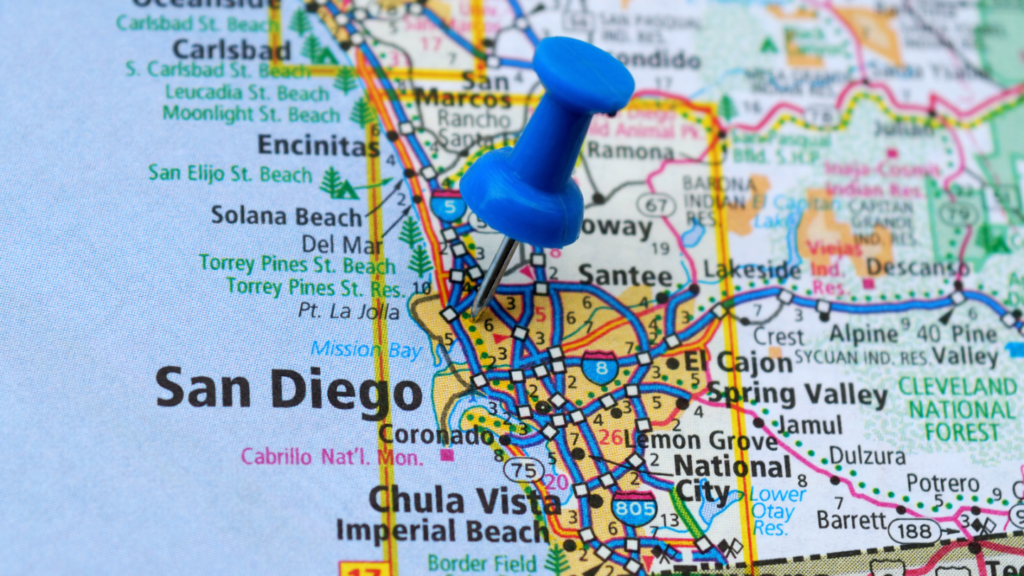 San Diego is nestled in the far south-west corner of the United States and the state of California, making it an ideal destination for those seeking sun, sand, and surf. Its strategic location on the Pacific Coast has turned this city into an economic center and a hub for tourism.
So, where exactly is San Diego, and what makes it so unique? Let's find out.
Southern California Coast
San Diego's coastline is undoubtedly one of the most breathtaking in Southern California. With over 70 miles of sandy beaches and rocky cliffs, there's a spot for everyone to soak up the sun and enjoy the ocean waves.
But it doesn't stop there. The region's diverse geography boasts not only beautiful coastlines but also nearby mountains and deserts, providing plenty of outdoor adventures for nature enthusiasts.
The climate in Southern California is another reason why San Diego is such a popular destination. With a Mediterranean climate characterized by mild winters and warm summers, visitors can enjoy outdoor activities year-round. In fact, the city boasts an average of 300 sunny days each year, making it a paradise for those looking to escape colder climates.
Proximity to Mexico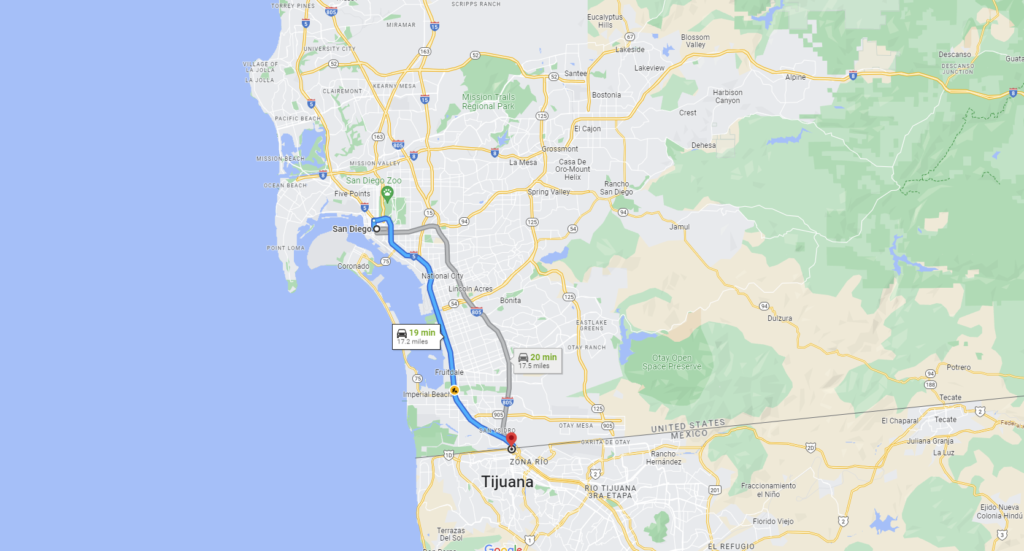 San Diego's close proximity to Mexico has a significant impact on its culture and vibe. Located only 17 miles (27 kilometers) from the Mexican border, the city is a melting pot of American and Mexican influences. This unique blend is evident in the countless Mexican restaurants, markets, and cultural events that can be found throughout the city.
Plus, the bustling San Ysidro border crossing, the busiest land border crossing in the world, connects San Diego with the vibrant city of Tijuana, offering an easy gateway to experience the best of both worlds.
Map Reference
If you're planning a trip to San Diego, locating it on a map is a breeze. With latitude and longitude coordinates of 32.7157° N and 117.1611° W, you can easily pinpoint the city's location on a map of California or the United States.
Once you've found San Diego on the map, you'll be one step closer to discovering its beautiful beaches, fascinating history, and world-class attractions.
A Glimpse into San Diego's History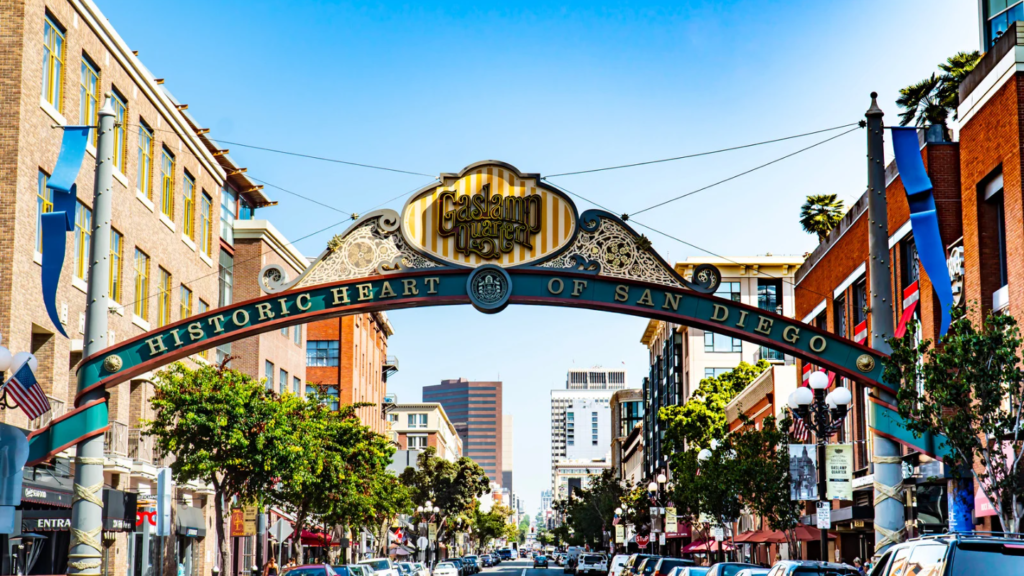 San Diego's rich history dates back thousands of years, beginning with its Native American roots and continuing through Spanish colonization. This historical tapestry has shaped the city into the vibrant metropolis it is today.
Let's take a brief journey through time and uncover the milestones that have made San Diego the captivating city it is now.
Native American Roots
Before European explorers set foot on the land, the area now known as the La Jolla complex inhabited San Diego, also called the Shell Midden people. They lived in the region from 8000 BCE, leaving behind a rich cultural heritage.
The Kumeyaay tribe, another Native American group, has called the San Diego area home for over 12,000 years. Known for their basket weaving, pottery, and traditional crafts, the Kumeyaay people are an essential part of the region's history.
Unfortunately, European colonization had devastating effects on the Native American population, with many perishing from disease, displacement, and violence. Today, an estimated 10,000 Native Americans from different tribes, including Kumeyaay, Luiseo, and Cupeo, continue to reside in San Diego.
Spanish Settlement
San Diego's European history began in 1542 when explorer Juan Rodriguez Cabrillo arrived in the region. However, it wasn't until 1769 that the Spanish settlement took root with the establishment of a presidio and the Mission San Diego de Alcala by Gaspar Portola and Friar Junipero Serra.
This marked the birth of California as the site of the first permanent Spanish settlement, setting the stage for the state's rich cultural heritage.
Modern Development
Founded in 1867 by Alonzo E. Horton, San Diego has grown and evolved over the years into the bustling city it is today. As California's second-largest city, San Diego boasts a diverse economy that includes tech, tourism, and defense industries. In addition, the city's population has swelled to over 1.3 million residents, making it a vibrant and bustling metropolitan area.
Visitors and residents alike can enjoy San Diego's wide range of attractions, from the world-renowned San Diego Zoo to the picturesque Balboa Park. The city's commitment to education, economic development, and public safety has created a strong and inclusive community that continues to thrive.
With its rich history, diverse cultural offerings, and beautiful natural surroundings, San Diego is a city that never ceases to amaze.
Notable Landmarks and Attractions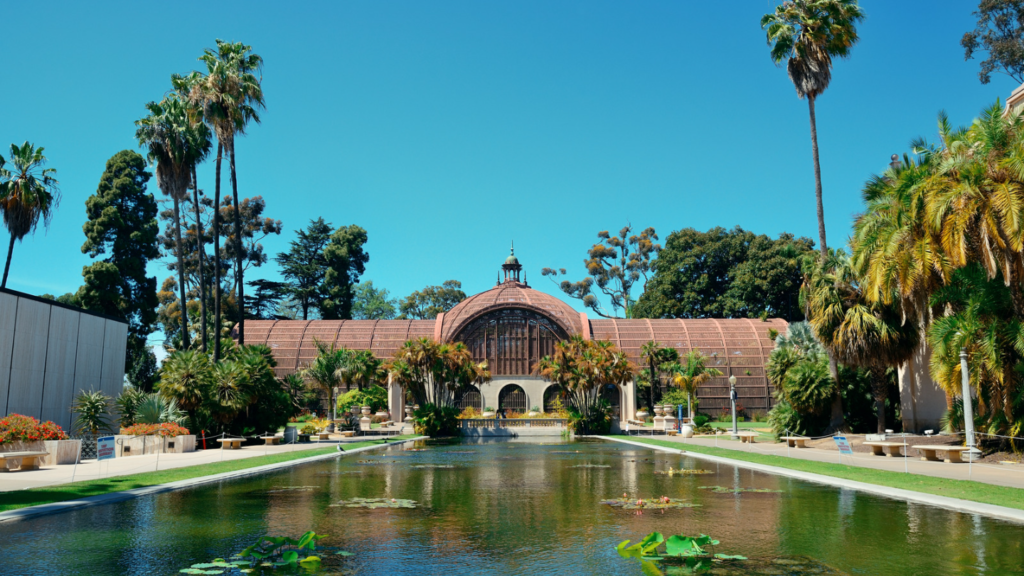 San Diego is a treasure trove of landmarks and attractions that cater to every interest. Whether you're a history buff, an animal lover, or simply looking to explore the great outdoors, this city has something for everyone.
In this section, we'll highlight three must-see attractions that showcase the best of what San Diego has to offer: Balboa Park, the USS Midway Museum, and the San Diego Zoo.
Balboa Park
Sprawling across 1,200 acres, Balboa Park is a cultural oasis in the heart of San Diego. This urban park is home to beautiful gardens, fascinating museums, and impressive performing arts venues, making it a must-visit destination for art and nature lovers alike. The crown jewel of the park is undoubtedly the world-famous San Diego Zoo, which houses over 3,700 animals from more than 650 species and subspecies.
But there's more to Balboa Park than just the zoo. Visitors can also explore the park's numerous museums, including the San Diego Museum of Art, the Museum of Natural History, and the Air & Space Museum. For those who prefer the performing arts, the park is home to the Old Globe Theatre and the La Jolla Playhouse. With such a diverse array of attractions, Balboa Park truly offers something for everyone.
USS Midway Museum
Located in downtown San Diego, the USS Midway Museum is a fascinating maritime museum that showcases the largest naval aviation museum in the world. Housed aboard the retired USS Midway aircraft carrier, the museum features an array of interactive exhibits, flight simulators, and educational programs that give visitors an up-close look at the vessel's inner workings.
With its unique blend of history and hands-on learning, the USS Midway Museum is an attraction that's not to be missed.
San Diego Zoo
Nestled within Balboa Park, the San Diego Zoo is a world-renowned attraction that delights visitors of all ages. Home to over 3,700 animals from more than 650 species and subspecies, the zoo offers a unique opportunity to get up close and personal with wildlife from around the globe.
In addition to its impressive animal collection, the zoo features interactive exhibits and displays, such as the Skyfari aerial tram, the Children's Zoo, and the Polar Bear Plunge. A visit to the San Diego Zoo is a must for any animal lover.
Climate and Natural Features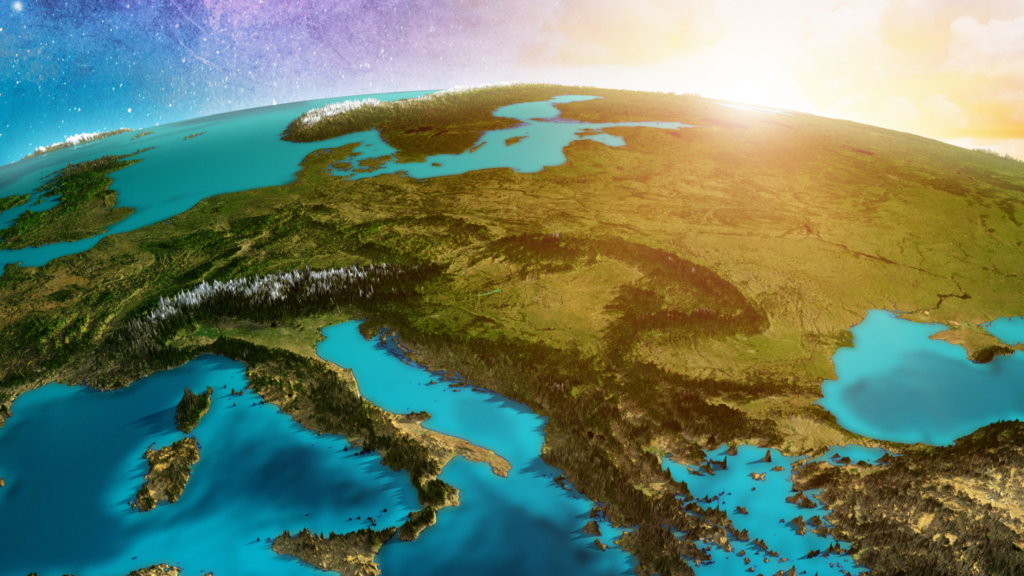 San Diego's idyllic climate and breathtaking natural features are among the many reasons visitors flock to this coastal paradise. The city's Mediterranean climate, with its mild winters and warm summers, makes it an ideal destination for year-round outdoor activities.
In this section, we'll explore the key aspects of San Diego's climate and natural features, including its beautiful beaches and coastline as well as the nearby mountains and deserts.
Mediterranean Climate
San Diego's Mediterranean climate is characterized by its mild winters and warm summers, with temperatures rarely exceeding 90°F. The city receives approximately 10 inches of rain annually, resulting in a pleasant and comfortable climate that beckons tourists and residents alike to enjoy the outdoors.
In fact, San Diego boasts an average of 300 days of sunshine each year, making it a haven for sunseekers and outdoor enthusiasts.
Beaches and Coastline
San Diego's coastline is the stuff of legends, featuring over 70 miles of sandy beaches, rocky cliffs, and picturesque views. Some of California's most popular beaches, such as Coronado Beach, La Jolla Shores, and Mission Beach, can be found in the San Diego area. These beaches offer a variety of recreational opportunities, from surfing and swimming to sunbathing and beachcombing.
In addition to its stunning beaches, San Diego's coastline boasts a diverse array of natural features. From the iconic cliffs of the Torrey Pines State Reserve to the serene waters of Mission Bay, visitors can enjoy a multitude of coastal experiences. Whether you prefer a leisurely stroll along the shore or an exhilarating water adventure, San Diego's beaches and coastline have something for everyone.
Nearby Mountains and Deserts
San Diego's surrounding mountains and deserts offer a wealth of natural beauty and outdoor activities for those looking to venture beyond the coast. The Laguna Mountains to the east and the Anza-Borrego Desert to the east provide a stunning backdrop for hiking, camping, and exploring.
Additionally, the city's proximity to the Cleveland National Forest and the San Jacinto Mountains opens up even more opportunities for adventure and discovery.
Transportation and Accessibility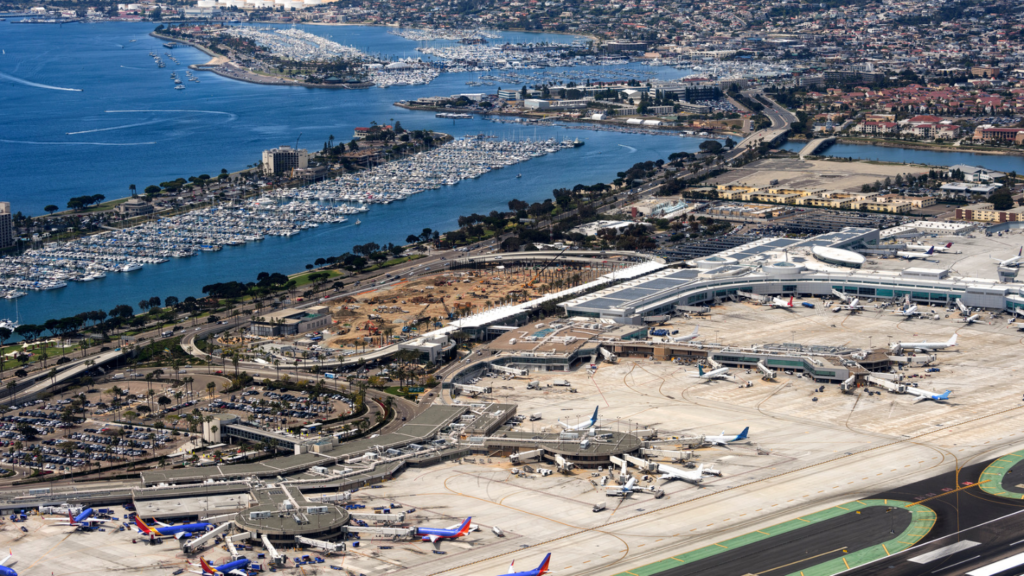 Getting around San Diego is a breeze thanks to its diverse transportation options and accessibility. Whether you're arriving by air or navigating the city's streets, San Diego offers a variety of convenient and efficient transportation choices.
This section'll discuss the city's air travel options, public transportation system, and driving and parking options.
Air Travel
San Diego International Airport serves as the primary air travel hub for the city, offering flights to a variety of domestic and international destinations. For those seeking a smaller airport experience, Brown Field Municipal Airport and Montgomery Field Airport provide additional options for air travel.
With these three airports serving the San Diego area, visitors can easily access the city from virtually anywhere in the world.
Public Transportation
San Diego's public transportation network offers a myriad of options for getting around the city, including buses, trolleys, trains, bike paths, scooters, ferries, and taxis. The San Diego Metropolitan Transit System (MTS) operates an extensive network of buses and trolleys, providing convenient and affordable transportation throughout the city.
The MTS also services popular attractions like Balboa Park, the San Diego Zoo, and the USS Midway Museum, making it easy for visitors to explore the city's top landmarks.
In addition, the Amtrak Pacific Surfliner train and the North County Transit District's Coaster commuter train connect San Diego to other Southern California cities, such as Los Angeles and Santa Barbara.
Driving and Parking
For those who prefer to drive, San Diego offers a range of driving and parking options, including street parking, metered parking, and parking garages. The city's well-maintained roads and highways make navigating the area a breeze, with minimal traffic congestion outside of rush hour periods.
Additionally, car-sharing and ride-sharing services are widely available, providing even more transportation choices for visitors and residents alike.
Qshark Moving Company San Diego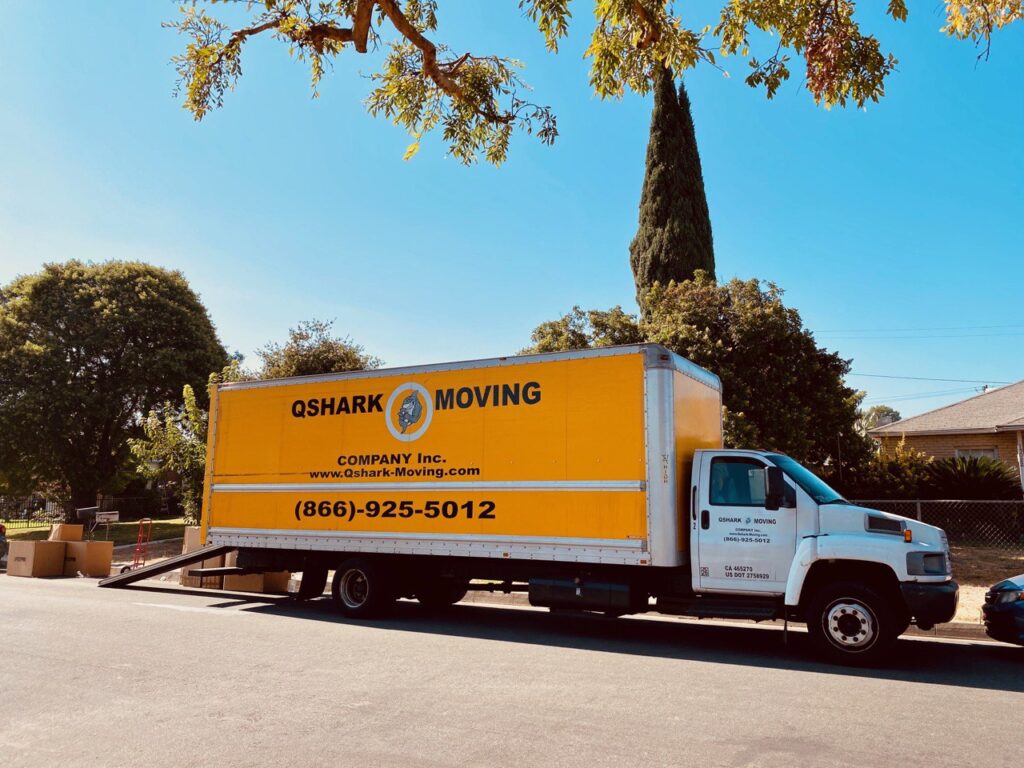 When it comes to moving in or out of San Diego, Qshark Moving Company San Diego is the go-to choice for long-distance relocations. With their commitment to providing exceptional service to the San Diego community and their top ratings on Yelp and the Better Business Bureau, Qshark Moving Company is the clear choice for a stress-free moving experience.
Let's take a closer look at the services they offer and their dedication to the San Diego community.
Services provided
Qshark Moving Company San Diego specializes in long-distance relocations, both inbound and outbound. With their team of professional movers, Qshark ensures that your belongings are handled with care and transported safely to your new home.
Offering top-notch and budget-friendly moving services, Qshark Moving Company San Diego takes the stress out of relocating, allowing you to focus on settling into your new surroundings.
Commitment to san diego community
Qshark Moving Company San Diego is not only dedicated to providing high-quality moving services, but also to supporting the local community. They understand the unique needs of San Diego residents and strive to make the moving process as smooth and efficient as possible.
With their commitment to customer satisfaction and their impressive 5-star rating on Yelp and A+ rating from the Better Business Bureau, Qshark Moving Company San Diego is a trusted partner for all your moving needs.
Top rated on Yelp and BBB
Unsurprisingly, Qshark Moving Company San Diego has earned stellar ratings on both Yelp and the Better Business Bureau. With a 5-star rating on Yelp based on 636 reviews and an A+ rating on BBB, Qshark Moving Company San Diego has proven their commitment to exceptional service and exceeding customer expectations.
When you choose Qshark Moving Company for your relocation needs, you can trust that you're in good hands.
Summary
In conclusion, San Diego is a vibrant, diverse, and captivating city that offers something for everyone. From its stunning coastline and rich history to its world-class attractions and pleasant climate, it's no wonder that San Diego is a top destination for travelers and residents alike. With its convenient transportation options and strong sense of community, San Diego is the perfect place to call home or explore on your next vacation.
So, whether you're planning a visit or considering a move to this beautiful city, we hope our overview of San Diego has inspired you to discover all it offers. From the sun-soaked beaches and Balboa Park to the bustling downtown and historic Old Town, San Diego is a city that truly has it all.
Frequently Asked Questions
What's San Diego famous for?
Famous for its perfect climate, stunning beaches, and incredible attractions, San Diego is a popular destination for travelers looking to relax or explore.
It's home to the world-famous San Diego Zoo, SeaWorld San Diego, LEGOLAND California and many other iconic attractions.
Is San Diego and Los Angeles the same?
No, San Diego and Los Angeles are not the same. San Diego is well-known for its laid-back beach lifestyle whereas Los Angeles is known as a bustling metropolis and the world's entertainment capital.
You could say they're polar opposites!
What is the closest Mexican city to San Diego?
Tijuana – Located just south of the San Diego/Mexican border, Tijuana is the closest Mexican city to San Diego. Its convenient location makes it the most popular gateway into the tourist corridor of Baja California, and each year millions of people travel to the bustling city to explore its vibrant culture and attractions.
Tijuana is known for its vibrant nightlife, its bustling markets, and its many cultural attractions. From the historic downtown area to the beaches of Playas de Tijuana, there is something for everyone in this vibrant city.
Which part of the US is San Diego in?
San Diego is located in Southern California, along the Pacific Ocean and U.S.-Mexico border. It is one of the most populous cities in the state and offers a diverse range of attractions to visitors.
From the world-famous San Diego Zoo to the stunning beaches, there is something for everyone to enjoy. The city is also home to a vibrant nightlife, with plenty of bars.