Pros and Cons of using Moving and Packing Los Angeles
Experience the smoothest transition with QShark's premier moving and packing in Los Angeles. From packing to transport, we've got you covered.
Los Angeles, known for its vibrant city life and picturesque landscapes, offers opportunities and attractions galore. However, moving within or to this sprawling metropolis can be daunting. This is where QShark Moving Company steps in, providing reliable packing and moving services to ensure a stress-free transition.
Our article will guide you through:
Understanding the importance of professional packing and moving services.
Discovering the unique offerings of QShark, a top-tier packing company in Los Angeles.
Getting acquainted with our team of expert packers who ensure the safe transit of your belongings.
Learning how QShark smoothly combines packing and moving services for an efficient move.
Exploring the wide range of related services we offer.
Join us as we delve into the details of QShark's comprehensive packing and moving services in Los Angeles.
| Pros of Using Packing Services in Los Angeles | Cons of Using Packing Services in Los Angeles |
| --- | --- |
| Time Saving: Packing services can save you a significant amount of time, especially if you have a large home or many items to pack. | Cost: Hiring packing services is an additional cost to consider on top of other moving expenses. |
| Efficiency: Professional packers are experienced and trained, allowing them to pack your belongings more efficiently than you might be able to. | Less Control: When you hire a packing service, you relinquish some control over how your items are packed, which can be difficult for some people. |
| Safety: Professional packers know how to properly pack items to prevent damage during transit. | Finding a Reliable Service: It can be challenging to find a reputable and reliable packing service. |
| Stress Reduction: Handing over the responsibility of packing to professionals can reduce your stress levels during the move. | Availability: During peak moving season, packing services may be fully booked, requiring you to schedule well in advance. |
---
The Art of Moving in Los Angeles: An Overview
Moving is more than just a change of address; it's about transitioning your life to a new space, often filled with anticipation and mixed emotions. Amidst this whirlwind of emotions, the logistics of packing, moving, and settling into your new Los Angeles home can be overwhelming.
That's where QShark Moving Company comes in, offering specialized moving services tailored to the unique challenges of Los Angeles.
Here are a few factors we'll cover in this guide that make moving in Los Angeles unique:
Varying Building Rules: From high-rise apartments to suburban homes, building rules vary drastically in LA, affecting your moving process.
Congested Streets: The busy streets of LA pose unique challenges for moving trucks, which QShark has expertly mastered.
Diverse Neighborhoods: The city is a patchwork of different neighborhoods, each with its unique moving needs and challenges.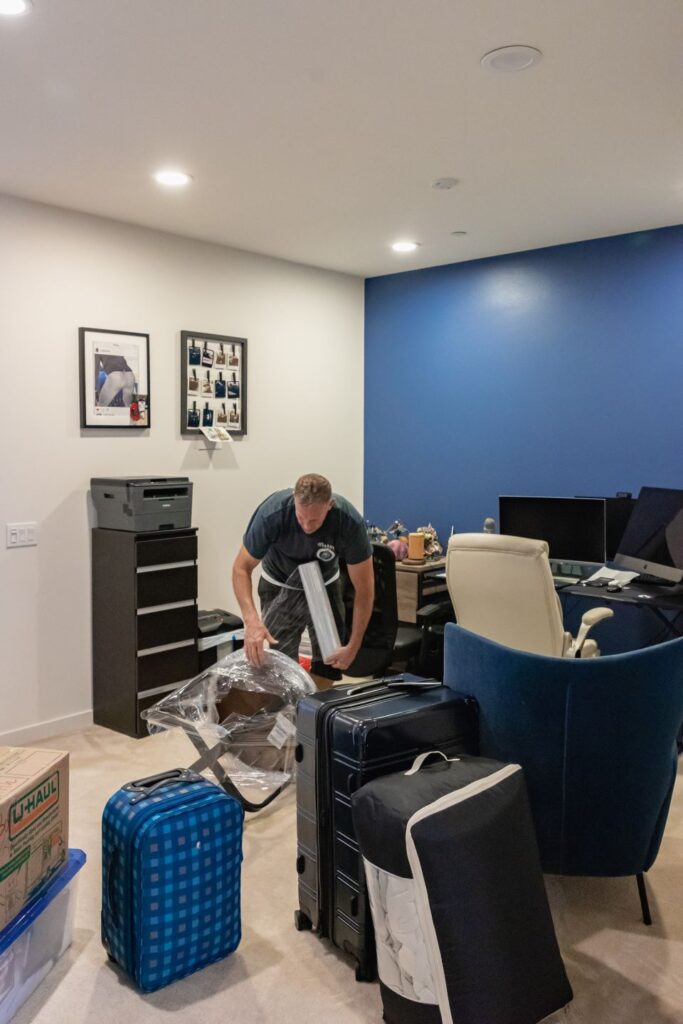 QShark Moving Company: Your Trusted Partner in LA's Moving Landscape
If you're searching for a professional moving company in Los Angeles, look no further than QShark. Our team of experts has successfully navigated the intricacies of LA's moving landscape for countless satisfied customers. With our commitment to excellence, we aim to make every move a seamless experience.
Let us now delve into the heart of our services – professional packing and moving. Stay with us as we shed light on why these services are critical to your moving journey in Los Angeles.
Understanding Moving and Packing Services in Los Angeles: The Essentials
Before diving into the specifics of what QShark Moving Company has to offer, it's crucial to understand the basics of moving and packing services, and why they're vital when planning a move in Los Angeles.
"Moving and packing services can make the difference between a stressful move and a seamless transition."
The Importance of Moving and Packing Services
Efficiency and Time Saving: Professional movers have the experience and skills to pack and move your belongings quickly and efficiently, saving you precious time.
Safety: Proper packing ensures the safe transit of your belongings, reducing the risk of damage during the move.
Stress Reduction: By handing over the responsibility of packing and moving to professionals, you can focus on other aspects of your transition, reducing stress levels.
Choosing a Packing Company in Los Angeles: Why QShark Stands Out
When selecting a packing company in Los Angeles, you want to ensure you're choosing a service that prioritizes your needs and the safety of your belongings. Here's how QShark meets those criteria:
Professional and Trained Staff: At QShark, our team undergoes thorough training in packing techniques and moving logistics to ensure you get top-notch service.
Tailored Services: We understand that each move is unique. Our services are tailored to meet your specific moving and packing needs.
Affordable Pricing: We offer transparent pricing with no hidden charges, ensuring you get the best value for your money.
Now that you know what to look for when choosing a packing company in Los Angeles, let's explore the specifics of QShark's packing services and how our professional team simplifies your moving process.
QShark's Packing Services: Detailing the Process
As premier movers in Los Angeles, QShark's packing services ensure your items are safe and secure throughout your move. Our meticulous approach and attention to detail set us apart from small keepsakes to large furniture items.
A Step-by-step Description of QShark's Packing Process
Preliminary Survey: Our team of professional movers conducts an initial assessment of your home to estimate the scale of the move and understand your specific packing needs.
Packing Materials: Depending on your belongings' nature and fragility, we use high-quality packing materials like bubble wrap, packing paper, and different sizes of moving boxes to ensure the utmost protection.
Packing: Our experienced packers carefully handle each item, using the most effective packing techniques to ensure their safe transit. Fragile items like glassware and electronics receive extra attention and care.
Labeling: We label all boxes according to room and content type, facilitating unpacking in your new home.
The key to our packing process's success is our team of local movers who are trained in packing techniques and moving logistics. Let's meet the team.
---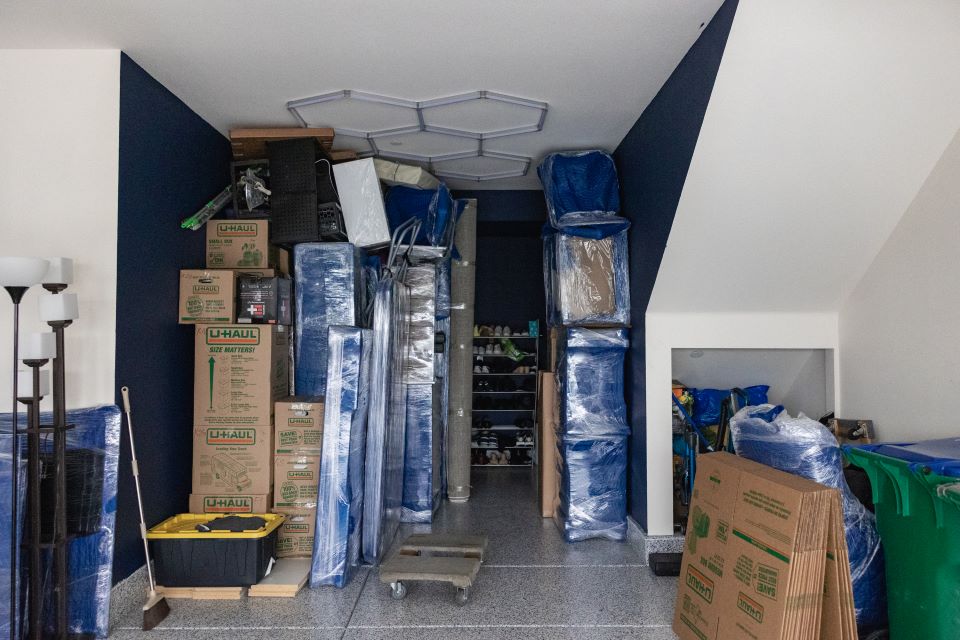 Expert Packers: The Backbone of QShark Moving Company
When entrusting your valued possessions to a moving company, you want to be sure that the team handling your belongings is experienced, competent, and meticulous. At QShark, our team of professional packers fits the bill.
Our Team
Skilled: Each team member has been trained in the latest packing techniques to ensure your belongings' safe and efficient packing.
Dedicated: Our team is committed to providing the highest customer service. We treat every item with care and attention, treating your possessions as our own.
Experienced: With years of experience, our packers are familiar with the nuances of packing different items, ensuring your belongings are in safe hands.
"Your possessions deserve the best care, and at QShark, that's precisely what they get."
QShark: Leading Packers and Movers in Los Angeles
As your trusted movers in Los Angeles, QShark offers a seamless fusion of packing and moving services. We take care of every detail, from securely wrapping your precious items to transporting them safely to your new destination.
QShark's Integrated Packing and Moving Services
Here's a closer look at how we manage the process, ensuring a smooth transition for you:
Packing: As discussed earlier, our professional movers use the best packing techniques and materials to safeguard your items during the move.
Loading: Once everything is packed and labeled, we carefully load your items onto our moving trucks, ensuring fragile items are well-protected.
Transit: Navigating through Los Angeles's busy streets can be challenging, but our local knowledge and experience enable us to transport your items efficiently and safely.
Unloading & Unpacking: Upon arrival at your new home, we unload and unpack your items, setting up your space as you desire.
"At QShark, we don't just move boxes; we move lives."
In addition to packing and moving, QShark offers a variety of related services to cater to your every need. Let's explore some of these services next.
---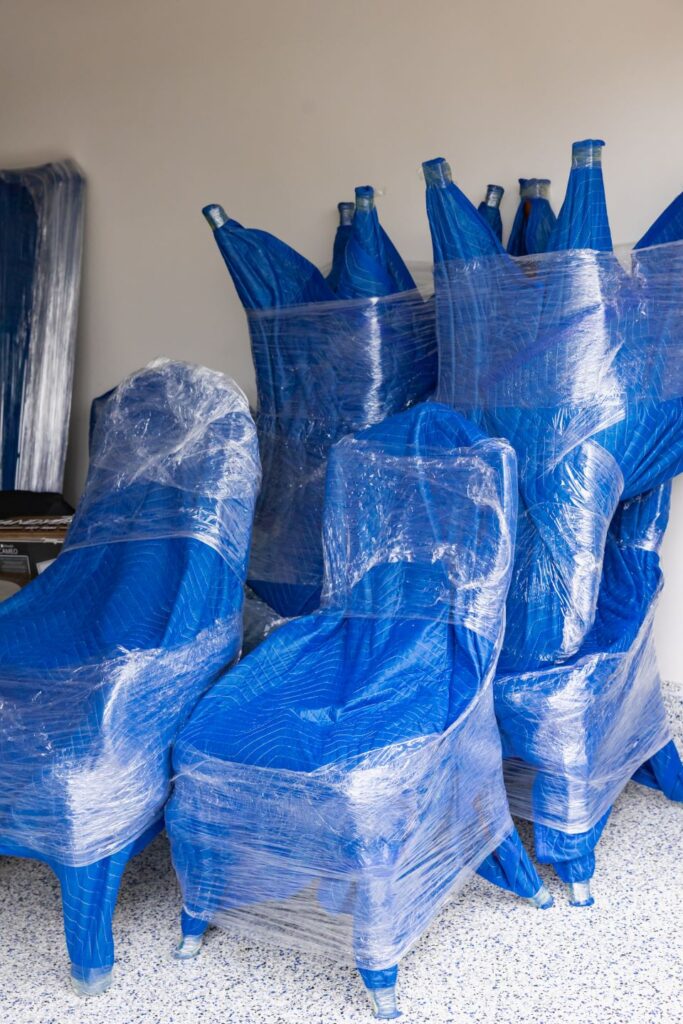 Related Moving Services Offered by QShark
Whether you're moving a large family home, a small apartment, or a business, we offer a range of services to suit your needs:
Luxury Moving: Special handling and care for high-value items.
Long Distance Moving: Moving services across states or even coast-to-coast.
Apartment Moving: Specializing in moves within or between apartment buildings.
Office Moving: Professional relocation services for businesses.
Los Angeles Movers with no minimum: Qshark offers 3 hours minimum service.
In the next section, we'll dive deeper into the cost-effectiveness of hiring a professional moving company like QShark, along with our transparent pricing model.
Cost and Value: Why QShark is a Smart Choice
When planning a move, the cost can often be a decisive factor. At QShark, we understand this concern and strive to provide our clients with cost-effective solutions without compromising on the quality of our services.
Cost-Effectiveness of Hiring a Professional Moving Company
It might seem like packing and moving yourself could save some money. However, when you factor in the time, effort, and potential for damage or injury, hiring professional movers like QShark is often more cost-effective. Here's why:
Time-saving: Our team's efficiency and experience save you time, which you can devote to other important aspects of your move.
Stress Reduction: Moving can be a stressful process. Letting professionals handle the logistics can significantly reduce your stress levels.
Damage Prevention: Our expert packers use the right packing materials and techniques to minimize the risk of damage to your items during transit.
QShark's Pricing: Transparency and Value
At QShark, we believe in complete transparency when it comes to pricing. We provide a detailed quote upfront, so you know exactly what to expect. Our affordable pricing, with no hidden charges, ensures you get the best value for your money.
In conclusion, while the moving process may seem daunting, with the right professional help, it can be a smooth and stress-free experience. Let's wrap up by reiterating why QShark is the preferred choice for many residents and businesses in Los Angeles.