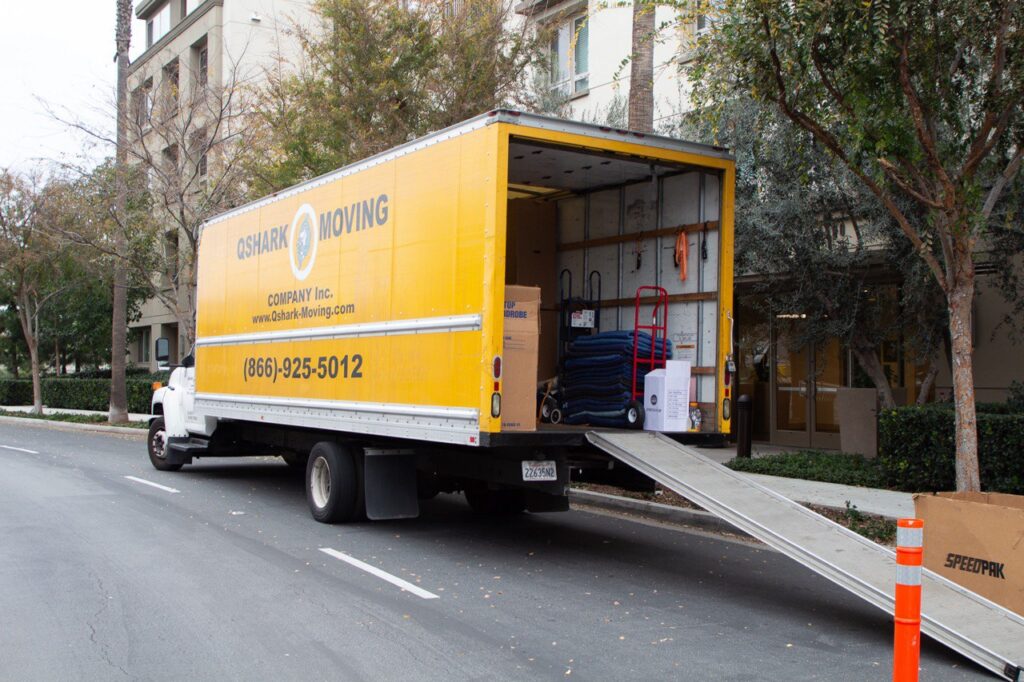 How to Choose a Mover?
Welcome to the world of QShark Moving Company, where we connect you with the best movers to streamline your transition to a new home or office. We understand that moving can be a stressful experience, and making the right choice for your moving needs is paramount. One of the questions we will answer here is How to choose movers?
We are not just professional movers but committed partners looking to make your move as smooth as possible. To aid you in your moving journey, we've prepared this comprehensive guide that will walk you through all the steps you need to know to make an informed decision.
This guide will help you:
Identify your moving needs and understand the types of movers available
Start your search for the top movers and evaluate a moving company
Obtain and compare quotes, and understand the process of in-home estimates
Watch out for red flags to avoid scams and finalize your choice
Prepare for the move
So let's dive in!
Identifying Your Moving Needs
Identifying your specific moving needs is important before you start looking for a moving company. Here are some aspects you should consider:
Type of Move: Are you planning a local move within the same city or county? Or are you looking at a long-distance move to a different state or country? QShark offers a range of moving services, from local moving to long distance moving, to cater to your unique needs.
The volume of Belongings: The amount and type of belongings you have will impact the type of moving service you'll need. For instance, you may need specialized piano movers for your grand piano or office moving services for your business relocation.
Special Requirements: Do you have any fragile items that require special handling? Or do you need additional services such as packing services or day labor?
Stay tuned as we delve deeper into these aspects in the following sections. It's time to move with QShark, your trusted partner, for a seamless transition.
Understanding Different Types of Movers
Every move is unique, and so are your needs. The next step is to understand the different types of movers available so that you can choose the one that best fits your specific circumstances.
Full-Service Movers: Full-service movers handle every aspect of your move. This includes packing and unpacking your belongings, loading and unloading the truck, and transportation. This is a great option for those who don't want to deal with the physical labor of moving or are too busy to manage the move themselves. Full-service movers are also beneficial if you have items that require special handling.
Self-Service Movers: If you're willing to pack and unpack yourself but would like some help with the heavy lifting and transportation, self-service movers may be a good choice. These companies will drop off a container or truck at your home for you to load up. Once you've finished, they'll transport your belongings to your new location for you to unload.
Specialized Movers: Some moving situations require more specialized services. For instance, if you're moving an office, you may need experienced movers handling office equipment. If you have a piano to move, you'll need piano movers who know how to handle such a valuable and delicate item. If you're looking for some extra hands to help with packing or unpacking, you may be interested in day labor services.
Knowing what each type of mover offers can help you decide what kind of moving service fits your move.
Starting Your Search for Movers
Once you've determined your moving needs and understand the types of movers available, you can search for the perfect moving company. Here's how to get started:
Word-of-Mouth Recommendations: Start by asking friends, family, or colleagues if they've used a moving company they were happy with. Personal recommendations can be incredibly valuable and trustworthy.
Online Searches: Use online platforms to find a list of movers in your area. Read reviews and ratings to get an idea of previous customer experiences.
Professional Directories: Consider using professional directories or online platforms dedicated to reviewing and listing moving companies.
Remember, finding the best movers is about finding the company that can best meet your specific moving needs.
In the following sections, we'll delve deeper into how to evaluate moving companies, compare quotes, and understand the process of in-home estimates. Stay tuned!
Evaluating a Moving Company
Choosing the right moving company involves more than just finding the lowest price. It's crucial to ensure that the company you choose is reputable and capable of providing a quality moving service. Here are some key aspects to consider:
License and Insurance: All professional moving companies should have the necessary licenses to operate, and the proper insurance to cover potential damages during the move. You can verify a mover's license via the Federal Motor Carrier Safety Administration's (FMCSA) website for interstate moves, or your local state regulatory authority for intrastate moves.
Reviews and Ratings: Reviews and ratings from previous customers can provide valuable insights into a company's performance. Look for patterns in reviews. If several people mention great service or, conversely, report issues, you'll likely have a similar experience.
Experience and Track Record: A company with years of experience and a strong track record is more likely to provide reliable service. Look at how long the company has been in business and its record of dealing with the type of move you're planning (local, long-distance, office, etc.).
Obtaining and Comparing Quotes
A critical step in choosing a mover is obtaining quotes from multiple companies and comparing them. But remember, the cheapest quote may not always be the best. It's important to understand what's included in the quote to make a fair comparison. Here's how:
Components of a Moving Quote: Quotes may include various elements such as labor costs, packing services, insurance, storage, etc. Make sure you understand what's included in each quote and that you're comparing apples to apples.
Get Multiple Quotes: We recommend getting quotes from at least three different companies. This gives you a range of options and a better understanding of the reasonable cost for your move.
Compare Effectively: When comparing quotes, look beyond just the final price. Compare the specific services included, the company's reputation and reviews, and the terms and conditions of the service.
In-Home Estimates
An in-home estimate is when a moving company representative comes to your home to assess the amount and type of belongings you have in order to provide a more accurate quote. This process offers numerous benefits:
Accuracy: An in-home estimate is the best way for a mover to gauge the amount of work involved in your move accurately. They can see the size and number of items you have, any special handling requirements, and factors like stairs or narrow hallways that could affect the move.
Opportunity to Ask Questions: The in-home estimate also gives you a chance to meet a representative of the company face-to-face, ask any questions you may have, and get a feel for their professionalism and expertise.
Understanding how to get and compare quotes and the benefits of an in-home estimate is key to choosing the right moving company. In the next sections, we'll cover red flags to watch out for, how to finalize your choice, and how to prepare for your move.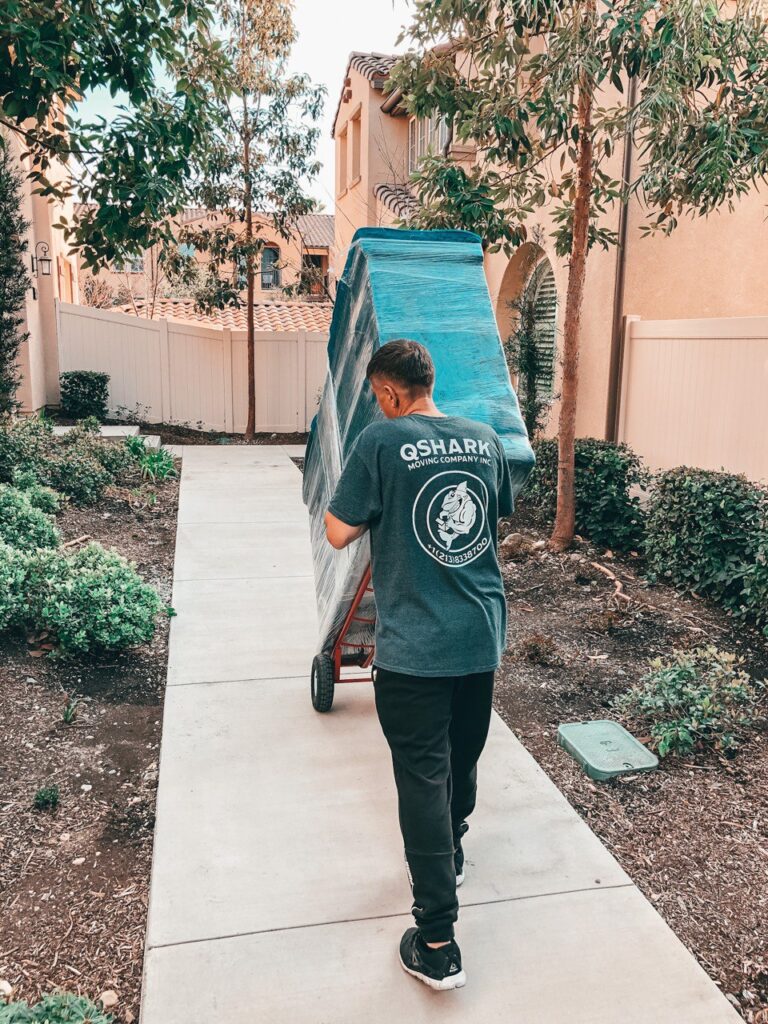 Red Flags to Watch Out For
While there are many reliable moving companies out there, it's also important to be aware of potential red flags that could signal a less than reputable mover. Here are some warning signs to watch out for:
Unrealistically Low Quotes: Beware of quotes that seem too good to be true. Some less reputable movers may offer a low quote to reel you in, only to increase the price substantially on a moving day.
Lack of License or Insurance: As mentioned earlier, all professional movers should be licensed and insured. If a company can't provide proof of these, it's a major red flag.
Poor Reviews or Ratings: While every company may have a few negative reviews, a pattern of poor reviews or complaints with regulatory bodies should be a cause for concern.
By being aware of these warning signs, you can avoid potential scams and ensure you choose a reputable and reliable moving company.
Finalizing Your Choice
After doing your research, comparing quotes, and looking out for red flags, it's time to finalize your choice. Here are a few additional things to consider when making your final decision:
Additional Questions: Don't be afraid to ask additional questions to clarify any part of the quote or services provided. This could include questions about their handling of special items, scheduling, cancellation policy, etc.
Your Specific Needs: Consider your specific moving needs. If you have a lot of fragile items, you may want to choose a company that excels in packing services. If you have a piano, you'll want piano movers who are experienced in handling such items.
Review the Contract: Before signing anything, review the contract thoroughly. Ensure all the services you've discussed are included and you understand the pricing structure and any additional fees that may apply.
Preparing for the Move
Once you've chosen your moving company, it's time to prepare for the big day. Here are a few tips:
Organization: Start by organizing your belongings. Decide what you'll be taking with you, what you'll be selling or donating, and what will be discarded.
Packing: Begin packing non-essential items well in advance. Make sure items are well-protected with proper packing materials.
Moving Day: Ensure everything is packed and ready to go on a moving day. It's also a good idea to create an inventory of your belongings to keep track of what's being moved.
At QShark Moving Company, we're committed to providing top-notch service to make your move as smooth as possible. Following this guide, we're confident you'll be well-prepared for your upcoming move.
What to Expect on Moving Day
Moving day can be stressful, but it can go smoothly with the right preparation and a clear idea of what to expect. Here's a brief rundown of what you should expect on the day:
Early Arrival: Professional movers like QShark usually arrive early in the morning. Make sure you're ready when they show up.
Walk-Through: The movers will do a final walk-through of your home to get a sense of the layout and any items that require special attention.
Loading: Your items will be loaded onto the truck. Larger items and furniture usually go first, followed by boxes and smaller items.
Transportation: Your belongings will be transported to your new home once everything is loaded.
Unloading: Upon arrival at your new home, your items will be unloaded and placed in the correct rooms based on your instructions.
After the Move
Once the movers have left, your work isn't quite done. Here are a few post-move steps:
Unpacking: Start unpacking your essentials first, such as your kitchen items, bed and bath items, and work essentials.
Checking for Damage: As you unpack, watch for any items that may have been damaged during the move. If you find any, report them to the moving company immediately.
Review and Rate Your Movers: Consider leaving a review for your movers once the move is complete. Reviews help future customers make informed decisions and help the moving companies improve their service.
Congratulations! You've successfully navigated the moving process. We hope this guide has been helpful in your journey to find the best movers. At QShark, we're dedicated to making every move seamless and stress-free. If you're ready to get started with your move, don't hesitate to contact us.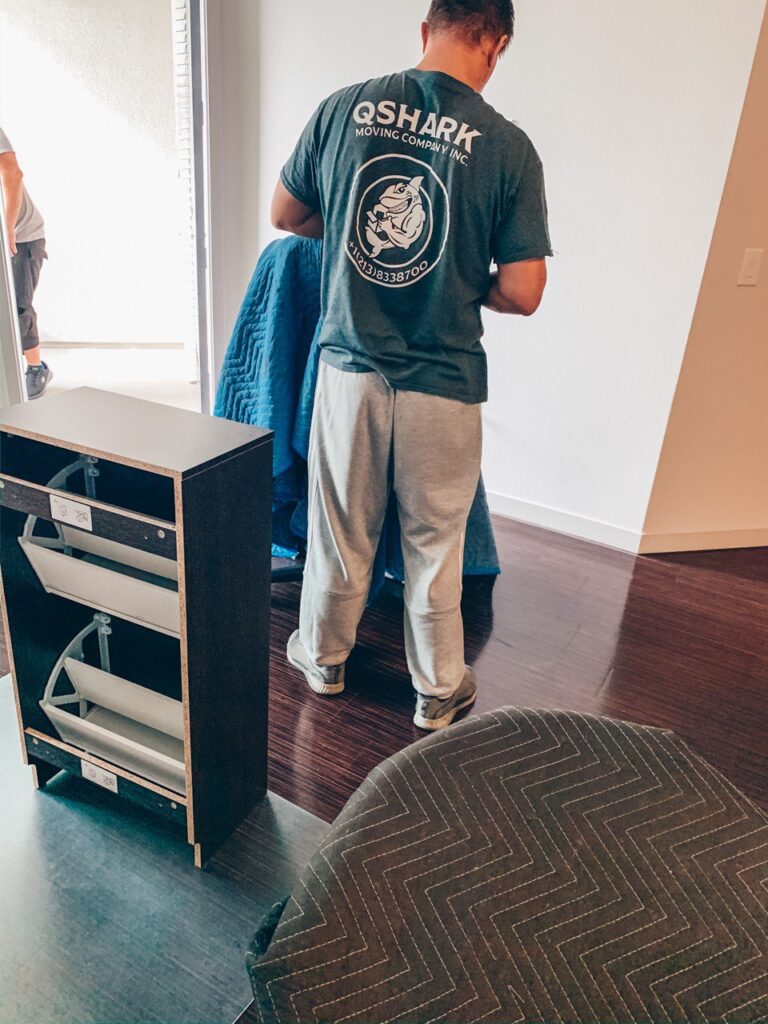 Wrapping Up: How to Choose Movers?
To conclude, let's summarize the key steps you should take when choosing a moving company:
Identify Your Moving Needs: Assess the nature of your move (local or long-distance), the volume of your belongings, and any special requirements.
Understand the Types of Movers: Choose between full-service, self-service, or specialized movers based on your needs.
Start Your Search for Movers: Seek recommendations, search online, and utilize professional directories to compile a list of potential moving companies.
Evaluate Moving Companies: Verify their license and insurance, read reviews and ratings, and consider their experience and track record.
Obtain and Compare Quotes: Get quotes from at least three companies and compare them based on price and the services included.
Understand In-Home Estimates: Benefit from accurate pricing and a chance to ask questions through in-home estimates.
Watch Out for Red Flags: Be aware of potential scams, such as no in-home estimates, unrealistically low quotes, lack of license or insurance, or poor reviews.
Finalize Your Choice: Ask additional questions, consider your specific needs, and review the contract thoroughly.
Prepare for the Move: Organize and pack your belongings and get ready for moving day.
On Moving Day: Expect early arrival, a walk-through, loading, transportation, and unloading of your items.
After the Move: Unpack, check for damage and review and rate your movers.
By following this comprehensive guide, you're sure to find a moving service that meets your unique needs and makes your move as smooth and stress-free as possible.
Thank you for choosing QShark Moving Company. We're here to help every step of the way. Please don't hesitate to contact us if you have any questions or are ready to start your move.
Happy Moving!